Life Lessons
---
A family tragedy and health challenges taught Terry Murray a lot about what it takes to navigate tough times. Now's he's sharing those lessons with others in the dairy industry.
Terry manages three full-time staff and contract milks 900 cows on farm in Dunsandel, Canterbury. "I've been milking cows for 18 years, but what I'm passionate about is developing the people who work for me. For the last 16 years, I've trained my 2 i/c so that they leave with the skills they need to run their own business or manage someone else's after two years. Then the guy below him gets his job and I work on his skills."
There's a back story to this. Terry's a career-changer. In a former life he was an outdoor education instructor teaching mountaineering and rock climbing. However, he and his wife had always fancied farming – as well as being an accountant, she was a 'farm girl'. It proved an inspired career move – within four years, the couple had equity shares in a farm of their own.
But then tragedy struck. Terry's eldest son died in a car accident leaving the family devastated. To relieve the pressure, the couple gave up their partnership and went back to contract milking. Even that proved a bridge too far.
"You don't realise at the time how much an event like that affects you. You think you're going along normally, but you're not. Looking back now, I just couldn't cope. I had real trouble sleeping. For a while I was drinking to fall asleep. I wasn't living healthily and put on a lot of weight – 16 kilos."
Over time, the stress took a toll. Terry contracted Guillain-Barre syndrome, a rare autoimmune disorder affecting his nervous system. "I was on my death bed in hospital. Nine days in intensive care, 21 days in hospital. I ended up in a wheelchair and couldn't walk," he remembers.
Getting back on track
His recovery took nine months. "My GP told me to just keep working and do what I could. It was the best advice I ever got. I had a good crew around me, so I just fought on. I didn't do the big hours, but I worked every day and slowly my body recovered."
The road to recovery didn't end there. "One day a friend of mine jokingly said, 'mate you've turned into a fat bastard','" he laughs, "It was a wee bit harsh, but he was right. I used to do triathalons, but I just wasn't fit anymore."
Galvanised into action, Terry set up a gym in his garage with a treadmill and started running every day for one to two hours. "I'd watch Netflix while I was running to relax my brain. After a couple of months, I felt so much better mentally and physically. Then I set myself a goal of doing a 100k ultramarathon and did my first one 14 months later."
Terry also rediscovered his love of rugby and got back into coaching. "Going back to rugby really helped me get right mentally after losing my son. It meant I was still involved with young people and helping them develop. I'm the sort of person who gets a lot of energy from helping other people. It also gave me a reason to get off farm."
It wasn't long before Terry's coaching skills were in demand. "A few years back the Tongan rugby union offered me the chance to coach the Tongan under-20 side for the junior world cup. I went to Tonga and coached in 2018 and also went back in 2020, before Covid struck. It was a great experience. I love rugby coaching. It gives me such a buzz to be out and about and surrounded by positive people."
Surround yourself with good people and focus on the positives
Terry credits his recovery not just to his rugby and running but also to the mindset he developed. "I still struggle every day with losing my son. I find it hard watching the sun come up, for example, which every dairy farmer does. After he died, I just thought, how can you still come up when he's not here? It didn't seem fair. So that's a tough moment for me, but over all I'm in a good space. I'm really proactive about my health and wellbeing. I surround myself with good people and always focus on the positives."
Terry applies this philosophy to his workplace and is encouraging other farmers to make their wellbeing more of a business priority. "It's so easy in farming to just work your guts out and look after everything but yourself. For example, I realised last week I'd just done four months with no days off. So, I sat down with my 2 i/c and he said 'take the week off,' so I have. I'm lucky to have good staff and a set up where that can happen."
Terry says it's easy to underestimate the amount of scrutiny and pressure contract milkers face. "Farming can be very judgmental. Many owners have advisers working on their behalf who regularly assess progress. That process can be brutal. If the feedback's just about the bottom line, even if you've got a lot of things going right, you can still feel pressured to push yourself harder and harder. For example, this week I've done a 16-hour day and a 14-hour day, and I thought to myself afterwards, 'why did I do that?'"
Living where you work doesn't help either says Terry. "When you're running a farm, you often go from your house to the shed each day and you're problem-solving the whole way. Like many farmers, I take pride in that, but the trick is to still stay positive even with you're dealing with something negative. Just like in rugby, you've got to develop a mindset where you only worry about the things you can control. You've gotta take the positives where you can and still be able to have a laugh."
Terry believes the industry needs to focus as much on its people as it does on its KPIs to attract and retain staff. "We get assessed every year on the environment, safety, water, different aspects of production, but not once does anyone come here and ask, 'how are your people going?'"
"That's why I think the industry needs to change. Look at top sports teams like the Crusaders. They look for good people because good people with the right coaching will make good Crusaders and good All Blacks. It's the same in farming."
"I really care what happens on this farm physically and environmentally, but I can't run my business without good staff. That's why I tell people, 'I'm not in the dairy industry, I'm in the people industry.' Farming is not just about cows or sheep, it's actually about people and if you get the people side right, you'll get it all right."
Wanting to help others
Terry agreed to share his story with Farmstrong to help other rural families who may have lost a loved one. "There must be a lot of people out there who are where I was – grieving, under pressure, overweight and not knowing where to start. They're welcome to contact me. That's why Farmstrong's a good thing – it gives you permission to talk about these things."
"My message to farmers in general is that if you're a rut or struggling get some exercise, take the dog for a walk and find something you enjoy that's not work – a mountain bike ride with the kids, something that gets those endorphins going. Because if you do, all of a sudden you get on this rollercoaster, your mood just takes off and you feel fantastic. Surround yourself with good people and get involved in something off farm that you're passionate about."
"And if you see someone doing a good job, make sure you tell them, 'Hey mate, your farm's looking good.' Little things like that can make a huge difference to someone's day."
Farmstrong is an award-winning rural wellbeing programme that helps farmers and farming families live well to farm well. To find out what works for you and 'lock it in', check out our farmer-to-farmer videos, stories and tips on  www.farmstrong.co.nz.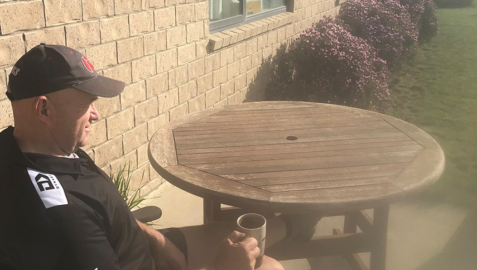 ---