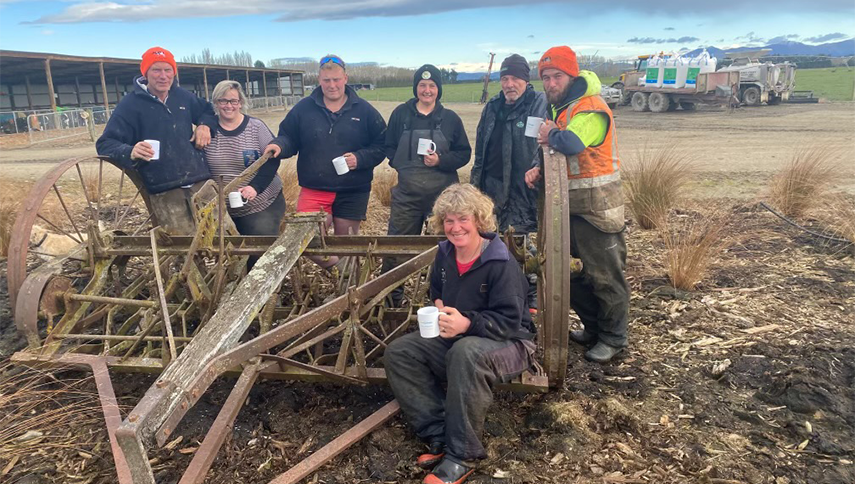 You Matter, Let's Natter
---
Farmstrong's You Matter, Let's Natter campaign is encouraging farmers to catch up with colleagues and neighbours over a cuppa to see how they're going. Southland dairy farmer Tracey Miller is one of a number of farmers who've put the billy on to help promote the idea.
Tracey and her husband Roger run a 1,000-cow dairy farm near Riversdale in Southland. It's a busy operation with four full time staff and a couple of calf rearers. Tracey says the team must be functioning at its best to keep on top of it all.
Which is why they gather each morning to share breakfast and chat over a cuppa. "Everyone sits down together for a good hour or so. Me and another calf-rearer prepare a cooked breakfast. We plan out the day, talk about what we've been up to and how things are going in general."
That sense of camaraderie is a big part of keeping people well, says Tracey. "Sharing the ups and downs of farming helps manage stress. It's my chance to do that too. Like a lot of farmers, I find it much easier to talk about everyone else's problems rather than my own but scheduling a regular get-together like that encourages people to open up."
"Yesterday, for example, I'd had a tough morning, so I just opened up to the others at breakfast today and everyone was like, 'oh, what happened? Tell us.' Being able to share how you're feeling like that with others is so helpful."
We need to support each other
"That's why I think You Matter, Let's Natter is an awesome idea. Grab a cup and go and have a natter with someone you care about. A lot of farmers are still very staunch about asking for help. But even if you find just one other person to tell how you're feeling, that will help you feel a lot better if you're feeling stressed. Whether it's your partner, boss, colleague or a relative, everyone needs to be able to confide in someone. As farmers we need to support each other."
Tracey says the team doubles down on efforts to connect during busy season. "Often when you're busy you don't make time to talk, but that's exactly when you need to talk the most. So even in the middle of calving I cook everyone a big dinner once a week to show that farming is a team game and fueling yourself with the right food is really important."
Tracey says the business has prioritised wellbeing in several other important areas. For example, the staff housing is of a high standard.
"It makes a huge difference to how you feel if you're coming home to a warm, dry house after spending all day outside on a cold, wet day. I think farm owners need to put more emphasis on things like that to attract and retain staff. A good week for us is not just about the cows and pasture, it's about everyone having a good day, working well together and going home happy and safe."
Prioritise downtime
Rest and recovery time is another priority. "We operate a 5 and 2 roster and really encourage our staff to get off farm on their days off to refresh mentally and not think about anything to do with the farm. We all need that downtime."
The couple also practise what they preach and head off regularly to Te Anau to recharge. "We made sure my husband was on the roster too, so he doesn't miss out on his breaks. If things are quiet on a Thursday afternoon, we might spend the night there and head back next morning. That's helps to keep us well. Even if we've just got a bit of downtime, we're off."
Tracey says the key to having time off is well-trained staff. "We can all have time off and relax knowing we're not going to get hundreds of phone calls because everyone here knows their job."
The fundamental insight is that Tracey and Roger treat their team as the farm's number one asset. "We simply can't operate this business on our own. We rely on staff and we're lucky – we have got really good staff now – but in the past that has been a real issue and source of stress for us," says Tracey.
"When everyone's pulling in the same direction, it just makes life a whole lot easier. We've learnt that looking after yourself and looking after your team is where it all starts."
Tracey says no one is immune to stress and pressure in farming. "Farming can be demanding. When you've farmed as long as we have, you realise that no one has it together, 100% of the time. When you're young it seems as if everyone's got everything under control, but as you grow older you realise the stuff people share on Instagram and social media are just highlights, that's not real life."
"We all go through tough periods. Keeping well is about taking the time to know yourself and checking in on yourself and others. If something's not quite right, talk about it before it becomes a massive deal."
"We've got our You Matter, Let's Natter mugs in our dairy shed office and we use them every morning when we're having tea and coffee together. I heard one of the staff say the other day, 'come on, let's go and have a natter'. It a simple idea, but it works."
Farmstrong is an award-winning rural wellbeing programme that helps farmers and farming families live well to farm well. To find out what works for you and 'lock it in', check out our farmer-to-farmer videos, stories and tips on  www.farmstrong.co.nz.
---