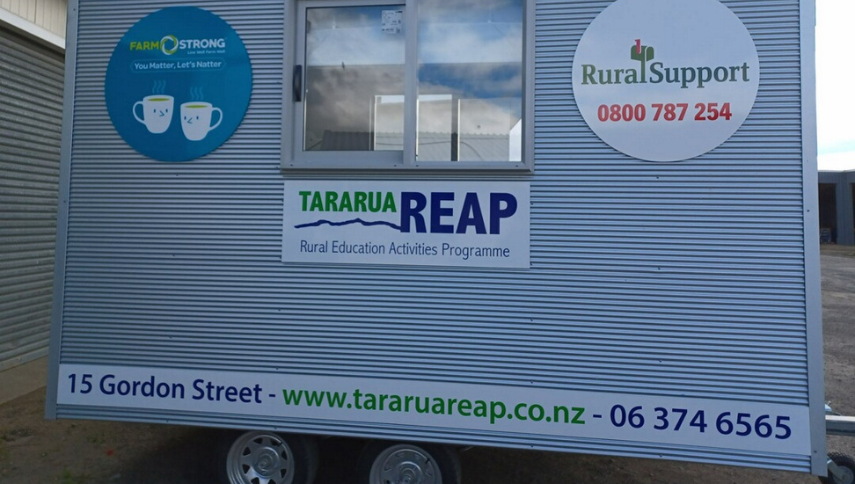 Koru Cabin connects rural communities
---
Module Overview
A mobile cabin, named the Koru Cabin, is getting out and about in the local Tararua District to help rural communities access resources and support services.
Tararua REAP's mobile Koru Cabin is supported by Farmstrong and Rural Support Trust and is proving to be popular with the locals.
Tararua REAP Koru Cabin co-ordinator Mel Oliver says the mobile cabin helps connect rural people and removes the barrier of having to travel to access services and information.
"The mobile cabin allows us to talk and connect with people and take our services, resources and information to them, rather than them having to come to us," she says.
"It also ensures people in rural areas are aware of the support available via Farmstrong and Rural Support Trust and they can access resources more easily."
Despite the cabin being temporarily off the road due to a mechanical problem that occurred on the way to the Dannevirke Christmas Parade, Mel says it will be up and running again soon.
"We've been taking a gazebo to events in place of the cabin, so we are still managing to get out and about and chat with people and connect them to support services."
Bringing resources to farmers
Some of the resources on board the cabin include Farmstrong pamphlets, information and You Matter, Let's Natter resources to help farmers live well and farm well.
Mel says the Farmstrong book Live Well, Farm Well: Farmers on Being Farmstrong has proven to be particularly popular.
Being able to connect with farmers at locations such as the Dannevirke A&P Show, Norsewood Domain and Farm Source was awesome, Mel says.
"We set up the gazebo at the A&P Show outside the shearing events and set up a competition to guess the number of docking rings in the jar," she says.
"It was a great way to get shearers and farmers to come over and have a chat and find out about initiatives like Farmstrong. It's about starting up authentic, organic conversations and creating awareness of what services are out there to help people."
She says feedback has been really positive.
"There's a big need out there for support and being able to link people to Tararua REAP and tell them about what we do and what's on offer from other organisations is great."
Mel says she's also been visiting play groups in rural areas to talk about services available, including Farmstrong. She leaves each playgroup a copy of Farmstrong's book and gives out flyers and You Matter, Lets Natter mugs for parents to take home to support conversations with their (often isolated) partners.
Collaboration and visibility key
Tararua REAP general manager Claire Chapman says working closely and collaboratively with other support organisations is rewarding.
"People in rural communities sometimes don't know about the services out there that they can benefit from.
"The Koru Cabin allows us to get out and about and be more visible, so people feel less isolated and like they don't have to tough it out on their own."
She says pockets of the Tararua District have been badly affected by Cyclone Gabrielle.
"A lot of ongoing support will be needed and hopefully we can help with that by connecting people with the resources and services they need."
---