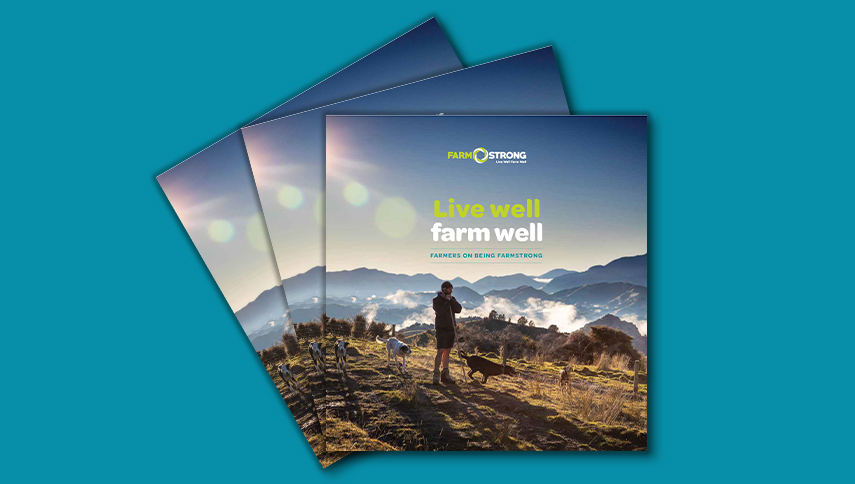 Get a copy of Farmstrong's new book
---
Farmstrong has steadily collected stories about how different farmers handle the pressures of farming. Now the best of these feature in a new book – Live Well, Farm Well – Farmers on Being Farmstrong.
The 150 page book is an easy, down-to-earth read and shares the stories of 29 farmers from different regions and sectors. It covers what they love about the job, the challenges they face and the sorts of things they do to keep well.
The farmers in Live Well, Farm Well have navigated all manner of setbacks and emerged out the other side a lot wiser.
Interspersed with the stories are tips from experts on the science of wellbeing covering topics such as managing stress, avoiding burn out, helpful thinking strategies, nutrition, farm fitness and sleep. The book also discusses how to have a 'listening conversation' with someone who might be struggling.
One of book's main messages is for farmers and growers to treat themselves as the business' number one asset and be proactive about their health.
Farmstrong ambassador Sam Whitelock says: "These stories have struck a chord with farmers and growers and played a huge role in the programme's success. Last year, 15,000 farmers attributed an improvement in their wellbeing to their involvement in Farmstrong."
"We can all learn a lot from reading these stories. Maintaining wellbeing doesn't happen by accident. We need to make space for it in our busy lives."
One of the people in the book, Bay of Plenty dairy farmer Paul Walker, is now part of a growing network of farmers involved in the programme.
"Farmstrong's definitely made a difference to me. If I'd had it when I first started farming, I probably would've avoided injury and a few 'black holes' and mental challenges along the way. But it's there now and it's a great resource. I think Farmstrong makes your own life and business more enjoyable and it makes your family happier too."
"This book is like having a discussion group at your fingertips. You've got all that knowledge in one place that you can go back to whenever you need – that's the beauty of it."
To get a copy of the book, tell us one thing you've learnt from Farmstrong that you've locked in to improve your wellbeing. Send your answer to info@farmstrong.co.nz with your name and address included.
Farmstrong is nationwide wellbeing programme that helps people to cope with the ups and downs of farming and growing by sharing things they can do to look after themselves and their families. To find out what works for you, check out farmstrong.co.nz
---