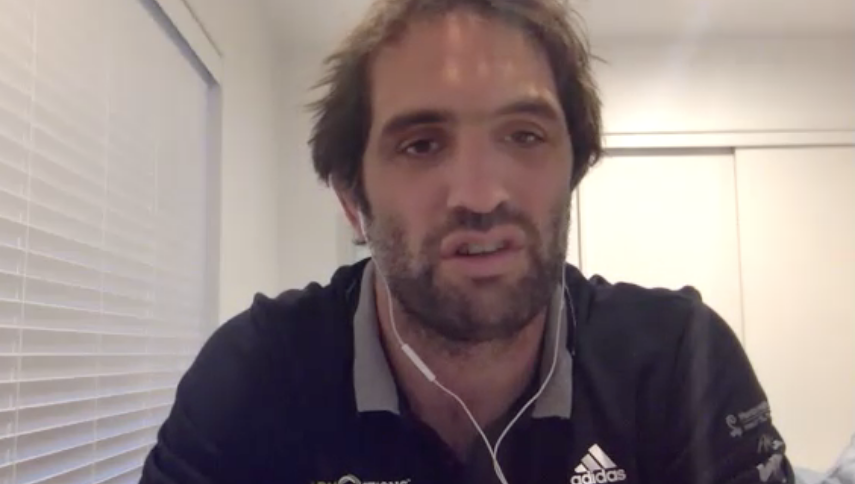 Sam stars in Farmstrong webinars
---
Farmstrong Ambassador Sam Whitelock recently jumped online to share his thoughts about how to manage stress and pressure in two, popular webinars for farmers and growers.
He began the hour-long sessions talking about his own farming background.
"I grew up in Linton, a small country town in the Manawatu, on a dairy farm. Our upbringing was very much like any other country kids.
"I also saw some of the pressures that mum and dad faced, including an outbreak of salmonella in the dairy herd years back. So I'm well aware that farmers are often great at looking after their stock and pasture but, sometimes not so good at looking after themselves," Sam said.
"Mum and dad learnt how to roll with the punches to a point, but obviously it's much harder for people who are just a few years into farming. That's why Farmstrong's such a great initiative. It encourages farmers and growers to "invest" in their wellbeing during good times, so they have something to "draw on" when times are challenging."
In the sessions, Sam drew similarities between the pressures of farming and top level sport.
"I think rugby and farming are quite similar in that there are often things happening outside your control. In rugby it might be the ref, in farming it's things like the weather or market prices. But pressure is pressure whether you're a farmer or a rugby player."
He also shared what he does to manage pressure himself.
"I embrace pressure as part of my job, then, when I get the opportunity, I step away from it and make sure I recharge. I've learnt, you can't just go "hammer-down" the whole time in any job.
"I head home to my family into a different world after rugby, so I'm not just focusing on one thing. It's important to go and do something else whether it's with your family or a hobby or catching up with mates outside the industry."
Sam encouraged participants to be open about how they were feeling and support others doing it tough.
"If you're feeling under the pump, talk it out. Some days when I feel a little bit short, I will just "turn the tap on" and I let everything come out. My wife Hannah will listen to everything and say nothing and that is all I need. So, get it all out rather than have the tap half on, dripping constantly," he said.
"And if you see someone is struggling, start that conversation, ask them how they're going and make time for a proper catch-up, whether it's over a coffee or at the pub. You don't need to provide any answers. Just listening can be a huge help. Put on a brew and take time to listen."
Asked to sum up what it means to be Farmstrong, Sam said: "To me, it means being open. Backing your strengths, but also being open to new ideas and the experience of people who've been through these challenges before."
Sam also spoke about the growing impact of the programme.
"Last year, more than 15,000 farmers attributed an improvement in their wellbeing to Farmstrong, which is great. I know there are many more farmers out there we can reach."
Dozens of farmers and growers from around the country joined the online chats. Their feedback showed both sessions hit the mark.
New orchardist Kerry Copas, who was part of a webinar for Northland farmers and growers, commented: "Thank you SO much for this session last night, it was very informative. Sam's comparisons and examples from his rugby world put a good, practical take on things, which I really liked. There would have been something, or a few somethings, that viewers could take from it for the better."
Frances Peat, who "zoomed in" to a session for the Surfing for Farmers network, agreed.
"It was by far the most useful discussion of that type that I have ever heard. Sam's answers hit the nail on the head every time and his rugby insight and analogies were seriously helpful and a great listen."
Both of Farmstrong's 'A Chat with Sam' webinars are now available to view and share here.
---