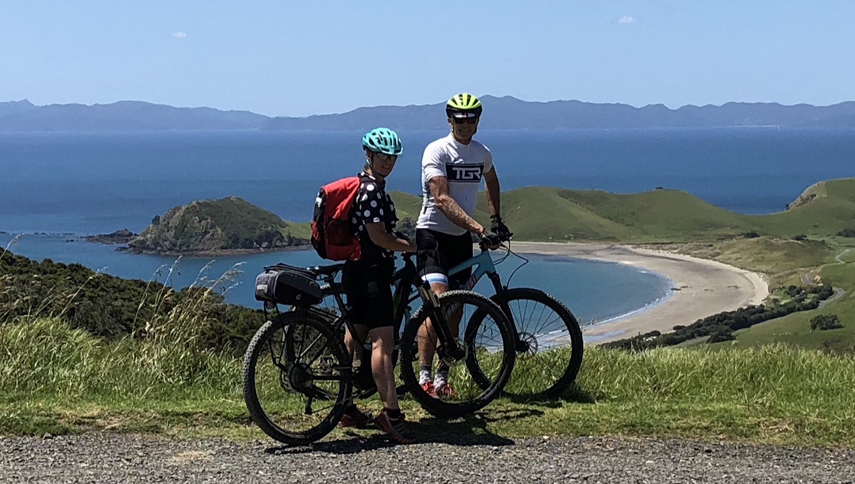 Invest in time off the farm
---
Getting off farm regularly is not just good for the farmer, it's great for the farm. Waikato dairy farmer Marc Gascoigne explains how his 'downtime' helps him meet his KPIs.
After a couple of 'crap' springs and average returns, Marc Gascoigne's enjoying a good one. Production's up 8% this season. He's used to ups and downs of farming and more besides – a few years ago he hit the wall with burnout. Now he works with the Rural Support Trust helping others.
These days Marc says no matter what the weather, the markets or life throws at him, he's in a much better place to cope. He's 'locked in' Farmstrong's Big 5 ways to wellbeing – connecting with others, staying active, learning, giving back to community and enjoying the simple things in life. These have made him more resilient. "Why should farmers care about the Big 5? Because that's the stuff that keeps you physically and mentally healthy. It keeps you sane!" he laughs.
Marc reckons he ticks off three of the Big 5 every time he climbs on his bike at the Te Awamutu Cycling Club.
"Cycling's a big part of my socialising. I'm getting the exercise, I'm connecting with people meeting up for rides and I'm serving others, because I'm president of the club. When you're giving to others like that it makes you feel a hell of a lot better yourself.
"You're often isolated on a farm. So if something's gnawing away at you and you're working by yourself all day, it can fester in your head. The more socialising and talking to people you can do the better.
There's also support on the work front.
"I've also got two or three farming mates that I keep in regular contact with. It's vital to keep those connections up and have a regular yarn, especially if you're going through a tough period. Farming people go through similar experiences and you can often help each other with ideas.  If you don't want to talk to farming mates about issues you're facing, that's where Rural Support Trust [0800 787 254] comes in. We're rural people helping rural people in all sorts of situations."
Marc says despite the convenience of smartphones there's no substitute for regular face-to-face catch-ups with neighbours.
"If people are going through tough times they often won't let on until you have a proper catch up. Last year, I asked one guy how he was going and he said 'pretty good, not too bad.' And I opened up a bit and said 'it's been bloody tough on our place actually' and that opened it up for him and he said, 'Well, now that you mention it …' and he went through a whole lot of issues he had on his farm. It's great to talk about that stuff. It helps you realise you are not in it alone."
Getting time off farm has become part of the business plan for Marc and his partner Maria.
"This time of year, it's really important to get off farm I reckon. When you're busy, the last thing you often feel like doing is socialising with people, but that's when it's really important to take up those invitations and get out there. Don't just sit at home and stew. You'll come back to your own farm with fresh eyes."
Marc says getting enough rest and recovery time is a big issue for farmers. He recommends they explore relief milking or farmsitting options with friends and neighbours in their region. "Quite a few of the call outs I get for Rural Support Trust are for people who struggle to get off farm. When I was younger starting out in farming I'd think about how much it was going to cost to get a relief milker for the weekend. So I wouldn't take a weekend off.
"After my health suffered, I decided relief milking was my number one priority. It's so important not to think of it as a cost, but an investment in your business. If it costs you $300 for a weekend off, you'll save a lot, lot more by making better decisions and farming smarter because you're not run down. That weekend off is your chance to catch up on sleep, to get out and socialise and get away from the farm stuff. It gives you more energy when you're working.
"When I started farming one weekend off a month was standard and you were lucky to get two weeks' holiday, but things are changing a lot and they need to. Farming can be the same thing day after day if you're not careful, so having a holiday or weekend off to look forward to, really brightens you up. It doesn't have to be expensive. We head off on bike rides or walks and stay in DOC huts for about $30 a night."
Marc admits when he first started taking more time off, he used to worry about what was happening on-farm.
"If I was away at calving time I'd be looking at the rain radar all the time because I knew I could relax more if it was going to be a good weekend on-farm. But even though that was at the back of my mind, I still made sure I got away."
He's convinced it's helped to create a more sustainable and enjoyable business.
"In farming there are all sorts of KPIs, but you've got to have a balance too. It's not all about KPIs. It's about wellness and enjoying what you're doing and living life as well. There's no point having the highest surplus if you're a miserable bugger and dead tired all the time. I'm prepared to forgo some of that profitability to live life well. It's about getting that balance."
---