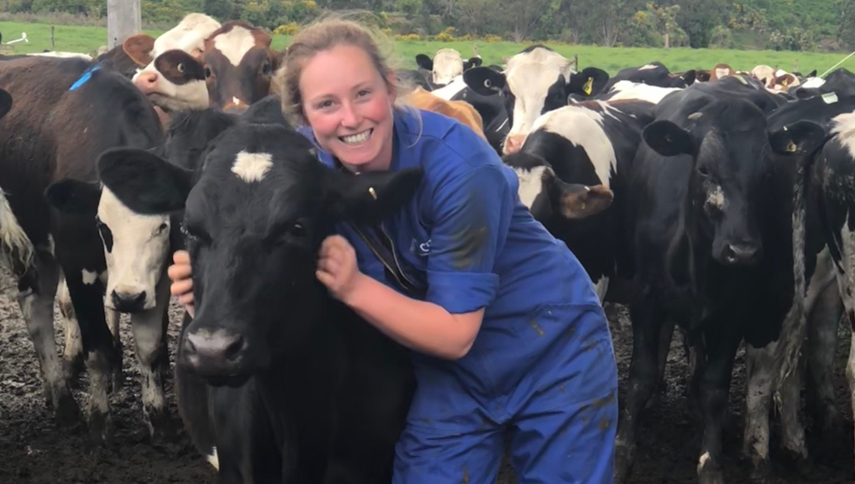 Work smarter and look after your wellbeing
---
Abbi Ayre is a contract milker in Culverden , North Canterbury. She has some great insights of life on the farm and what you can do to work smarter and look after your well-being.
---
Working long hours can takes its toll
I work on a on a 900-cow dairy farm in Culverden, North Canterbury, with my husband Frikkie. We met 'over the fence' and have worked together as contract milkers ever since.
I love the fact that I get to work outdoors and that no 2 days are the same. Being a farmer is a bit like being a vet, a builder, a scientist, an electrician and a plumber all rolled into one. You get to do all the jobs that make up farming. That's very satisfying.
However, a few years ago, lack of downtime really took a toll on my wellbeing and I'm keen to avoid a repeat. I was working very long hours, often with no breakfast and sometimes no lunch. But, it was my first job and I didn't know any different. I almost didn't carry on in the industry. Once you get tired like that, it's a downward cycle. You start eating rubbish food and then you start feeling rundown. I'm much more aware now about looking after myself and our staff too.
Change the things you can control and work smarter
The first 6 months of the dairy season are always particularly busy. I combine helping run the business with on-farm relief work, AI technician duties and calving. Getting time off to recharge the batteries isn't easy. The answer—I've discovered—is to work smarter.
In farming you've got external stuff like the weather and pay out prices—things you can't change at all. But, there are other things about your operation, like staff and rosters, that you can change to make sure you and others get time off.
We're just in the process of altering our roster so that everyone has more regular time off and they're not working too long hours, but we still all know what's happening at work as well.
Another unique challenge in farming is that people often live where they work. This makes escaping work worries doubly difficult. Farming can definitely put you under a lot of stress as a couple. Frikkie and I work together and live in the same house and we're always talking about things that we're going to do or need to do on the farm, whether it's at breakfast, lunch or dinner.
A few years ago we realised that we can't actually have a proper break unless we go overseas or somewhere with zero cellphone reception. So now that's what we do.
Get involved in things that you enjoy
We also schedule in regular breaks for local activities. Frikkie plays golf at least once a week and I do a lot for the Dairy Women's Network. I'm a regional leader and help to organise events around the area, which keep people connected.
Being part of the Dairy Women's Network has played a big role in helping me feel on top of things. Having that sort of support is just the biggest thing. I get to see a group of women on their one night off farm and we don't talk about cows and grass. Being in a room full of women like that is special. It's a great boost.
Take mini breaks
I find taking mini breaks down to the local store also helps break up our week. In the past we've worked in some very isolated places, but we're lucky now, we're only 10 minutes from Culverden. So, we often just head to the Farm Source store to have a break and grab a coffee and chat with other people coming in for farm supplies. There's also a monthly barbeque they run, so there are definitely things you can join
Share the load and keep talking
I've learnt that every season is different and every season has its challenges. The trouble is, when you're working in a situation where you're isolated, it can often feel like the world's falling apart. That's probably the time you feel least like going out and reaching out to others, but that's the time when you need support the most. If you're feeling under the pump, share the load and remember that you are not alone. Get out and talk to somebody, whether it's a dinner group or a BYO fish and chip night with neighbours and friends.
---
Thanks  for sharing this with us Abbi. For more great tips on well-being and how you can be looking after yourself, have a further look around Farmstrong. Make sure you take the wellbeing checklist too to find out where your wellbeing is at.
---