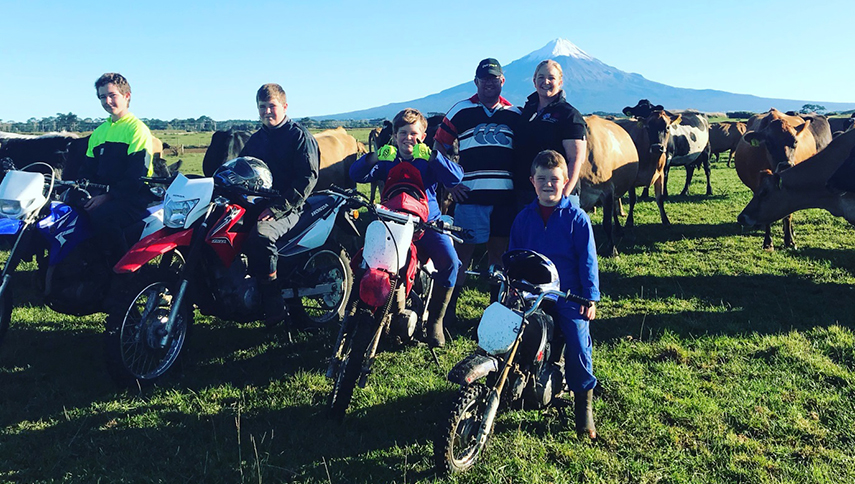 Filling the fountain
---
Juggling farm work and family responsibilities is a challenge many rural women face. Taranaki sharemilker and 2019 'Dairy Woman of the Year' winner Trish Rankin talks about how the family manages busy times like calving.

Trish and her husband Glen run a 460-cow sharemilking operation by Manaia. Life's plenty busy for the couple – they're also raising four kids 15, 13, 9 and 7.
"I generally work about 4 days a week on farm over the season just to give people days off, but obviously in calving and higher intensity times I'm full-time on farm. It's really hard to be a farmer's wife when you've got kids, but I tell my friends who have little kids that it does get easier. For example, we've now got four kids who are old enough to help us out on farm."
Prioritise looking after yourself and set up good routines
Achieving a decent work/life balance is something the couple have consciously worked at in recent years. Trish remembers some hard lessons learnt farming up north.
"When we farmed in the far north we milked once a day, had no staff and four young kids, aged 2 to 10. We literally never got a break. It was also a really challenging farm, 300 ha and hilly and an hour at least from everything. That just about broke us."
Which is why looking after themselves as well as their farm is now a priority. "You just have to work out what you can and can't do in a day and be okay with that," explains Trish. "It sounds easy, but it doesn't happen on its own. I think as farmers we often struggle with that, because a farmer can always see another job they haven't done yet. It's our fourth season here so we've benefited from setting up really good systems."
One of them goes by the acronym A.C.T – Accuracy, Consistency, Timing. "This means we know exactly what's happening during our day and we stick to that routine. So I go to the shed about 5.30 am and feed my calves while Glen and our worker are doing the milking, and then I go and help them out so that we are all out of the shed by 7.30am. Then I get the kids off to school, our worker goes home for breakfast and Glen goes and does a few jobs. This approach means if something goes wrong you're not chasing your tail all day with things you might have done at a different time."
Focus on the basics during busy times
Trish's other tips for managing busy times focus on the basics – sleep, nutrition and recovery time. "It's important to maximize your sleep, so we're also in bed pretty early during the season milking, say 9.30 or 10pm. Even things like buying a really comfortable pillow or mattress are important. Don't underestimate the power of a good pillow and mattress to get a better nights' sleep," she laughs.
Eating well is right up there too. "In terms of nutrition, we generally have a good balanced diet. We kill a beast and put it in the freezer, so if you at least have meat in the freezer. That way you can have a steak chopped up in a salad in 10 minutes. When you're busy, having plenty of groceries and food so you can make a really nutritious, simple meal makes a big difference to us."
Getting in shape to cope with the physical demands of farming is a work in progress. In February, Trish joined an online fitness class, 'Strong Woman', run by two dairy farming women. "In farming, it is easy to avoid exercise because you can't go to the gym or attend a workout. 'Strong Woman' means I can still stay active. I can put the laptop in the lounge while the kids are at school, squeeze in a 30-minute workout and feel much better."
Trish has also taken up running and does 5k runs every couple of days. "Now when my kids want to do an activity, I don't miss out because I'm not fit enough. Eating well and getting fitter so you can do things as a family really pays off."
Make time to do the stuff you enjoy
Getting off farm regularly, whether it's for kids' sport and surf lifesaving, catch-ups with friends, Kelloggs study opportunities or dairy industry gatherings is a constant theme running through Trish's conversation.
"All farmers want to be the best at what they do, but it's also important for work to be sustainable and enjoyable. Farmers are often terrible at mulling over stuff in their head for ages, worrying about things that might not even happen. Sometimes you've just got to cut yourself some slack, take a break, get off farm and do other activities to stay mentally fresh."
Be the fountain not the drain
Trish says farming women need to be especially aware of the danger of looking after everyone else's needs and neglecting their own – or as she puts it, 'be the fountain, not the drain'. "Farming and family life can be stressful, draining. When you go out for dinner, when you get a good night's sleep, when you book a girls' weekend away, you're filling the fountain."
"For me, it's about taking a holistic approach and growing not just as a business but also as a family. It's taken a long time for me to be a bit selfish and say 'I'm going out for a run'. But now my family know that it's my time and that I come back a happier person."
Farmstrong is a rural wellbeing programme that helps farmers and farming families live well to farm well. To find out what works for you and "lock it in", check out our farmer-to-farmer videos, stories and tips on www.farmstrong.co.nz
---