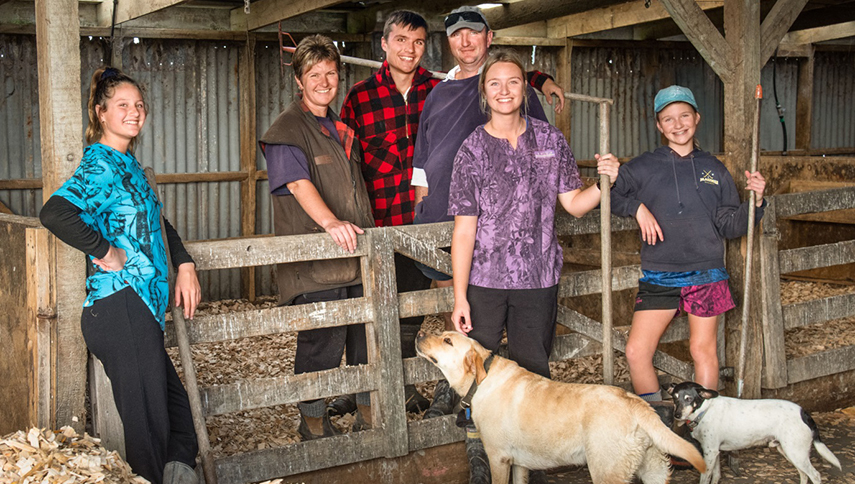 A different philosophy
---
Drought-hit Northland farmer Mark Meyer has an approach to farming that helps him get through even the toughest times.  
Mark milks 400 cows on a 190 ha dairy farm between Whangarei and Dargaville in the Kaipara region. He completed a Bachelor in Agriculture degree at Massey in the mid-90s, then headed back north again to go dairy farming. He and wife Vicki have been on the property nine years and say it's been a great place to raise their four kids, now all in their teens.
They're quick to acknowledge they've been lucky to have 'right hand man' and farm manager Logan for the past six years. It's allowed them to achieve balance in their working lives and get off farm on a regular basis.
Mark admits it still takes careful planning and commitment to make it happen, but says they share a vision of how rural life should be.
The farm will be there tomorrow
"There's no doubt in farming that what you put in is what you get out. And in theory, you could work all day every day. But how many people do you hear on their deathbeds say 'I wish I'd worked another day'? They usually say, 'I wish I spent more time with my family.'"
"You've got to adopt a different mentality and think, 'the farm will always be there tomorrow.' You've simply got to make the time to get off farm and refresh yourself to keep well physically and mentally."
Mark and his family are all into their sports. He played hockey for years and still coaches. Mark's daughters all play hockey and his son plays football and attends high performance athletics training in Auckland's North Shore. That's a lot of training sessions and driving to fit into an already busy working week. Why do it?
"It sounds tiring, I know," he laughs, "but actually I find it very relaxing getting off my farm and driving down through Dargaville and checking out other people's farms."
"I guess Vicki and I just have a different philosophy. We both lost our fathers when we were young and that's had a lasting impact. We always have the big picture in mind while we're farming – there's no point being the richest man in the cemetery. I heard of someone recently who hadn't got off farm once in six weeks and I just thought, 'wow, that's crazy!'"
"Even when you're flat out, you've just got to make it happen. For example, I really enjoy fishing, so if I've done what I need to by 2.30pm, so be it, I'll bugger off and go fishing or diving."
Control what you can control
When he's on farm, Mark applies a similar 'big picture' approach to the day-to-day pressures. Lately it's been Northland's drought – the worst in more than 70 years, with rainfall 40 to 47% below normal level. He's been as hard hit by the drought as anyone, but he's not letting it get to him. Quite the opposite.
"The way I look at things, all I can control is what I can control. In this situation with this drought, the rain will come, it's just a matter of when. You just have to factor that in and go from there. You've got to vary it up and work with the things you can. I can't control how much Fonterra is going to pay me. I can't control the weather. But I can control how much I spend and what we're going to make at the end of the day."
"No one's saying it's easy, but I was talking to a colleague of mine in Westport and he'd just had over 67 ml of rain in 2 hours, so he's dealing with that. You might feel down in the dumps, but the truth is there are always people in farming less fortunate than you. That's why it pays to adjust your thinking and look at the glass half full, not half empty."
Be flexible enough to change and adapt your plans
"Curveballs like droughts and floods will always come your way in farming. How you feel will be down to how you react. The mantra I use is, 'set your goals in concrete, but your plans in sand.'  So sure, decide what you want to achieve at the end of each week or month, but then be flexible enough mentally to change and adapt, if need be. Be satisfied with what you can achieve."
Mark's got simple advice for anyone feeling under the pump – 'stop and smell the roses'.
"Just stop what you're doing, jump in your Ute, grab some fish and chips and watch the waves at the beach or go grab a coffee in town and chew the fat with a mate. If you just remove yourself from your work environment, even for a little bit, it really helps to put life back in perspective."
---