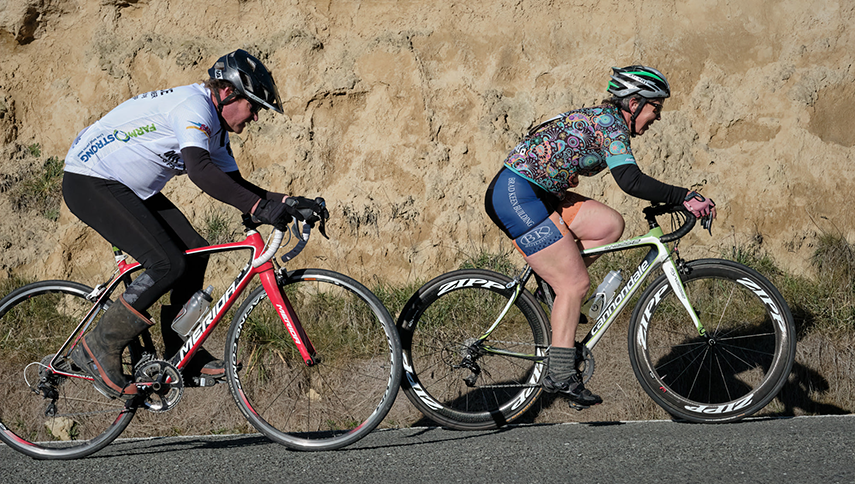 NZ's Fastest Farmers' Go Wheel To Wheel
---
The inaugural Anchor Milk cycle race recently took place near Oamaru. Among the 77 competitors were 28 farmers vying to be recognised as 'NZ's Fastest Farmer'. We caught up with the winners.
The 66.6km (808.5 metre total climb) group handicap road race sent riders round the Devil's Bridge Circuit in Weston, a suburb of Oamaru.
While the race was open to all road riders, it had a special section for farmers to highlight the work of rural wellbeing programme Farmstrong, which was a major sponsor. Farmstrong encourages farmers to treat themselves, their families and their team as the farm's number one asset.
The race also had a fun side, a quest to find the 'fastest' male and female farmer in New Zealand. The winners were Avril Lane, a 50/50 sharemilker from Waimate, and potato grower Kyle Gray from Rakaia.
Avril and her husband have been sharemilking for 11 years and look after 880 cows. "We joined the race because we like the whole idea of Farmstrong and promoting rural wellbeing," she says.
Five ways to wellbeing
Farmstrong's about developing habits that increase wellbeing – things like keeping active, trying new things, and connecting with mates. Avril says the race embodied all those.
"Just getting off farm for events like this is great. It helps you de-stress. Even though you might come back a little more tired than you were, it still gives you that boost of energy. For me it was the last day of freedom before calving. You've got to make the most of these opportunities when you can."
"I also enjoyed meeting the different people and other farmers. There was a great sense of camaraderie. You didn't need to be a great cyclist either, you could just come along and have a go. So, I didn't train for it, I just went in cold turkey and got behind it because it was supporting Farmstrong. It was a heap of fun. I hope it's an annual event."
"I think I averaged 27k an hour, but it felt faster on the downhills! I ended up in a group with a farmer and a lady who wasn't a farmer, so we had really good banter going which made the hills more bearable."
Making time to get off the farm
Kyle Gray, a mixed arable farmer, was already keen on his cycling. He says he took it up a year ago.
"I've found cycling a great way to let go of a bit of competitive steam and get off the farm. It's been really good. Cycling with a competitive element is a good off-farm activity because you have to find time to train so that you can be competitive and improve."
"For example, through the summer I made myself available on Sunday afternoons for my local club race. It's motivating."
"So, I ride to challenge myself and while I'm doing that for however long the race lasts – one or two hours – I'm thinking about nothing else but the race. It just freshens you up mentally."
"I travelled down with another three farmers who were new to cycling. I caught up with other farmers from Southland and Oamaru too, which was great. I thought it was a fantastic course. All the cycling around where I live is very flat, so to ride a few rollers was very enjoyable."
Work-life balance
"I enjoy my job producing food, but it's also important to get the balance right. For me the main stress is ensuring that the result of a year's work means we are delivering a quality product. Took me a few years to get the balance right, but I'm starting to learn it now and cycling's been a big part of that."
"So, when I saw there was a farmers section in the race advertised at my local bike shop I decided to enter. The general consensus was that everyone had a very good day."
One of the event organisers, Michelle Carson, comes from a farming background herself (sheep and beef) and sums up the value of the event nicely.
"Farming can be an all-consuming job with hardships that make it mentally taxing too.  Sometimes you just need reasons to get off the farm and do something different. The uniqueness of this event was that it was not only giving farmers something to do outside of farming but also helping them to keep physically and mentally fit to deal with its challenges."
Farmstrong is an award-winning rural wellbeing programme that helps farmers and farming families live well to farm well. To find out what works for you and 'lock it in', check out our farmer-to-farmer videos, stories and tips on  www.farmstrong.co.nz.
---