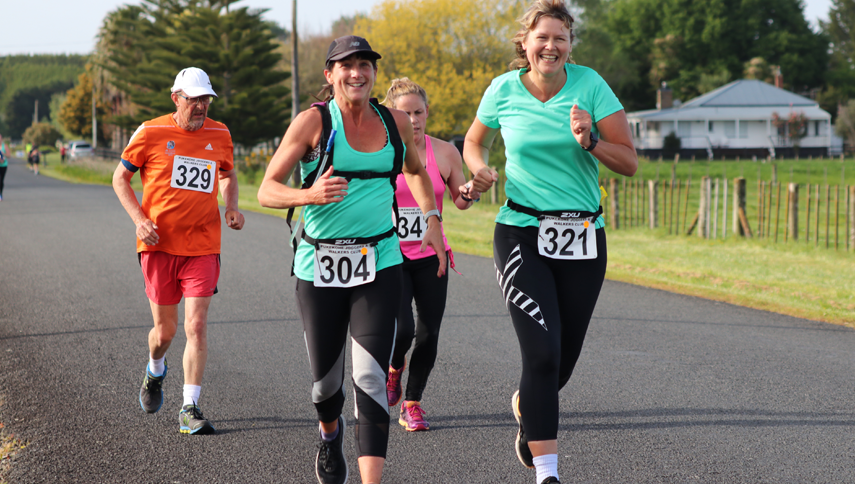 Take some time out for yourself
---
Can you find one hour a day for yourself?
As with many great ideas decided over a few wines with friends—or seemingly great at the time— a Waikato farmer Cindy Morris and former farm girl Anne-Marie Case-Miller agreed to push themselves to run, not one, but 12 half marathons in 12 months.
Invest in you
'I'm a big believer of investing in 'you'. I think so many of us fail to do this these days as we're busy with other things and busy putting everyone else first," says Anne-Marie, who grew up on a Dairy Farm in Morrinsville.
'That's partly why I adopted a small mantra for myself. There are 24 hours in the day, one of those hours needs to be for me to do the things I love and enjoy.'
'Now I find an hour every day for myself. It doesn't need to be the full hour all at once, it could be broken down to fifteen minutes here, 30 minutes there to do things like gardening, reading, going for a run or walk, or just having a quiet cup of tea. The point being that I'm taking time to invest in myself.'
'So many people, women in particular I think, see this as selfish, but I look at it differently and think its self-fulfilling. It's partly why Cindy and I have set this half marathon challenge as it gives us some time to invest in ourselves', says Anne-Marie.
Rural wellbeing programme Farmstrong is following Anne-Marie and Cindy's 12 in 12 challenge, which started in Pukekohe in October last year.
A recent survey of farming women on their wellbeing by Farmstrong, with more than 800 respondents, identified three areas women feel were most likely to help increase their wellbeing. This included: more time off the farm, getting more or better quality sleep and getting more exercise.
'Many of my friends are still farming and I know how challenging it can be to get time to yourself—but it can be done. Even while training for this challenge, Cindy couldn't get off the farm for a bit, so as a solution she invested in a treadmill so she could still train and get that time to herself.'
'The 12 in 12 is all a bit of fun with good friends really. It's about connecting with others, physical activity and getting off the farm. Our aim is to just finish.'
Farmstrong promotes wellbeing
'These are all some of the things Farmstrong promotes around farmers seeing themselves as the most important asset on the farm. Once I heard about Farmstrong I really hoped there was a way I could team up with them and help promote their messages, so it's great to have their support for the next 12 months,' says Anne-Marie.
You can follow Anne-Marie and Cindy on Farmstrong's Facebook page and through regular blogs on the Farmstrong website as they progress over the year. If you'd like to join them on one of the runs, below is a list of races they're currently entered in.
October 14 – Pukekohe Runners and Joggers
November 10 – Tairua Peak to Peak
December 2 – Omaha Half Marathon
2019
January 20 – Skechers Half Marathon, Villa Maria Estate (wine!)
February 23 – Ruapehu Express
March 16 – Martinborough Round the Vines
April – XTERRA Rotorua Festival
May 25 – Whitianga Half Marathon
June – Mt Runners and Walkers Club Half
July – Cape Egmont Half Marathon
August – Hoka One One Run Taupo
September 21 – Round Rarotonga Road Race (this one is actually 31km, however there is a beach, sun and cocktails, and a week with friends!)
---