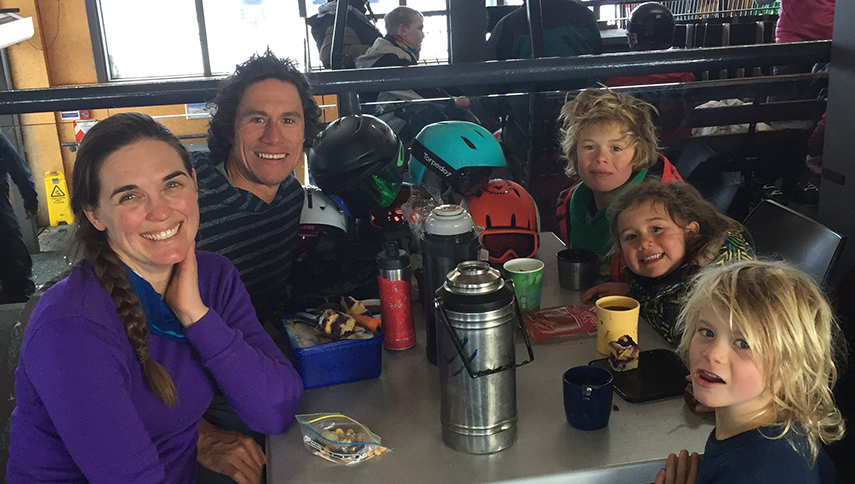 The key to unlocking time off the farm
---
Aspen Farm's Olivia Doonan has a great trick up her sleeve to ensure her family gets regular breaks off the farm.
She books a family holiday with husband Tahi Doonan and their three kids several months ahead of time, so they have no choice but to go away.
"If I didn't book anything then we probably wouldn't end up going anywhere because things always come up. But because it's locked in, it makes us take a break," Olivia says.
"It's something we've started doing in the last few years because we found if you don't book it, you don't go. It's never a good time to go away but we make it work and we always come back feeling refreshed and ready to go."
The couple returned from London almost a decade ago to help run Olivia's parents' Aspen Farm in Marlborough, which includes a 40ha vineyard that supplies grapes for the family's Tupari Wines  label.
Tahi manages the deer and sheep farm, while Olivia helps run the wine business and is also involved in the local community.
Interests outside the farm
Having interests outside of the farm and getting off the farm physically for small, regular breaks is key to the family's wellbeing.
"The earthquakes improved local surfing options by raising the seabed and it's something we love to do as a whānau. The kids love it and love being at the beach," says Tahi, a keen surfer.
Tahi is also involved in dog trialling, while Olivia does yoga and is heavily involved in fundraising for the new Awatere Early Childhood Education Hub.
Olivia says being involved in the community is rewarding and a great way to make friends and connections.
"And it helps keep things in perspective to do things outside of farming."
Tahi says there's always something on the "to do" list around the farm.
"There is always going to be a list of things to do but you just have to prioritise. If you don't get stuff done, you just have to park it up at the end of the day and pick it up the next day," he says.
"It's important you switch off at the end of the day and have good quality family time, or do something you enjoy to unwind."
Focus on what you can control
Tahi says the dry weather in the region is a constant challenge.
"It's always dry in summer, then this year we had no autumn and a mild winter and it's really dry now so moving into summer it's not looking good," he says.
"You just have to read the signs, make decisions early and prepare the best you can. I try to focus on what I can control, not what I can't."
Having a diversified farming business helps cushion the blow, Olivia says.
"If it's really dry, then it might not be so good for the farm but really good for the grapes. Spreading the risk a bit allows you to not take it as hard."
Tahi says it's important not to spread yourself too thin.
"It's about finding that balance and also forgiving yourself if things don't go as you'd planned."
Olivia says things often have a way of working out even if they don't go to plan.
"You can have your heart set on something and then it goes off track, but it usually ends up working out in a different way anyway," she says.
Challenging times for wine business
Olivia says COVID-19 has created challenges for the wine arm of their business.
"Most of our business is in the on-premise sector, in restaurants and bars, so lockdown hit us quite hard and we've had to change our production."
She says they've had to make changes to the business and be open to doing things differently, which is important in challenging times.
Olivia says the government's wage subsidy and other forms of help have been crucial to survival.
"When I was younger, there was the idea that you didn't take handouts, but that's changed. We'd be foolish not to take the help that's out there. It's important not be too proud to ask for help."
---