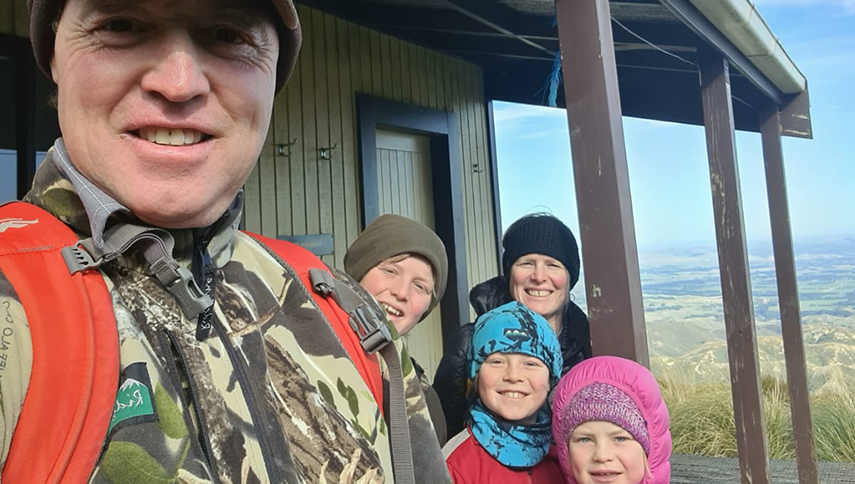 Focusing on the positive during the drought
---
The recent drought was super stressful for central Hawke's Bay farmers Megan and Howard Petersen, but their diversified farming business helped cushion the economic blow.
They also made sure they took time out and focussed on the positives to get through the difficult time.
The pair run a farm in Ashley Clinton, near Waipukurau, which has been in the family for more than 100 years.
These days the mixed sheep, deer, cattle and dairy grazing operation has diversified to include a fertilizer spreading business.
"We're in the ranges so we're usually a little more 'summer safe' than the rest of Hawke's Bay during drought, but this year the rain just didn't come," Megan says.
"But we did alright. We bought some silage quite early on in the drought, and we bought maize for the deer in bulk and started feeding that out really early.
"And then because we were in a drought everyone needed fertilizer, which was good for our spreading business. So it's a good business model because it balances itself out. You might have a bad year in farming because of drought, but then you have a good year spreading because everyone needs fertilizer."
 Glass half full
Megan says the family focused on the positives to get through.
"One thing about the drought is that it was beautiful weather. Once we got our feed out, we went for lots of walks as a family. Lockdown meant we couldn't go anywhere except around the farm but we just made the most of the fact that we still had a lot of freedom on the farm. For us it's about making the most of the situation you're in," she says.
"And in the spreading business, we were very busy but our attitude was at least we all have jobs and our business is still there. It was just a matter of keeping going really and trying to focus on the positives."
Megan says getting off the farm and taking breaks is important for wellbeing.
"During the week in our farming business, we always have 'smoko' at 10am and we have lunch together, so that's a chance to have a break, talk about workload and the plan for the day or week," she says.
"I'm a great walker and play tennis as well. My husband is doing indoor soccer at the moment. I think it's really important to do something for yourself. We also go off farm for a night or a day when we can," she says.
Getting the community together
Meanwhile, further north, the East Coast Rural Support Trust organised a post-drought community get together at the Ngatapa Rugby clubrooms near Gisborne, giving farmers the opportunity to get off the farm and have a catch up.
East Coast Rural Support Trust community coordinator David Scott organised the get together and invited Farmstrong project lead Gerard Vaughan as the guest speaker for the event, which was held on 3 July.
David says it was a huge success.
"It was a great opportunity to meet up and have a yarn, something to eat and talk about ways to look after your wellbeing.
"Gerard shared videos of farmers talking about their personal experiences and how they dealt with adversity as a springboard for discussion," David says.
"He was amazing and was able to create a lively, positive discussion. People felt comfortable talking openly and honestly about challenges on the farm and their wellbeing, which was great."
He says the wellbeing bank account concept was a brilliant way to help farmers think about their wellbeing.
"We've had a really bad, dry summer and the COVID-19 rules hit us hard and exacerbated the dry spell so it's been tough, but people are feeling optimistic now."
---