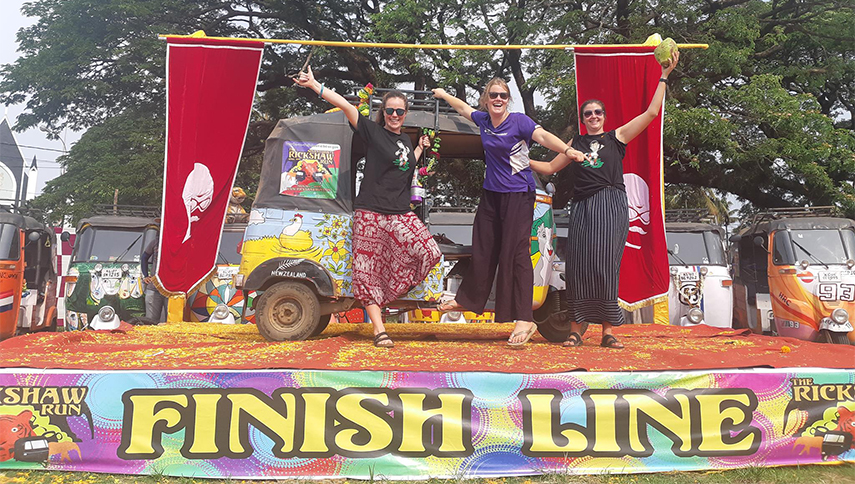 Tuk-tuk racers raise over $10,000 for Farmstrong
---
The pride of the South tuk-tuk team—Nikki Brown, Natalie Lindsay and Gina McKenzie, have completed their epic 3,000km tuk-tuk race across India. They update us on their journey and how much money was raised for Farmstrong.
---
The race
As we ease back into the harsh realities of real life and responsibility, it's time to wrap up our Indian adventure. It certainly has been one hell of a time, with many mishaps, surprises, LOLS and a bit of hard yakka.
The race went from Jaisalmer to Cochin and the three of us spent 2 weeks crammed inside our pimped out, 7-horsepower, motorised tuk-tuk nicknamed 'Potsy'—complete with a small dent in the wheel after the first test drive.
Potsy had a top speed of about 50km downhill. To get underway we studied the hierarchy of the road and decided to make avoiding cows our top priority for the next 3,000km! Along the way we took on challenges in return for donations. For example, one day we all wore traditional female Indian dress then took a group photo of us all blending in with the local women.
The race was made all the more fun with all your support, encouragement and of course, donations to Farmstrong. All of us grew up in farming families in rural areas so we realise the toll that farming's isolation, stress and unpredictability can take on rural wellbeing. We can't get over how generous everyone has been to get behind this programme, which does an amazing job supporting  wellbeing in our rural communities.
Thank you all so much for supporting this awesome cause—we are absolutely stoked!
Trip summary
Km's travelled: 3,110km
Sweatiest day: 44°C
Sacred cows dodged: 927
Average time of curry to travel through digestive system: 4 hours, 17minutes
Distance pushing uphill: 3.2km
Number of u-turns: 93
New uses for cable ties and duct tape discovered: 8
Money raised for Farmstrong to support wellbeing in our rural communities: $10,000 plus
---
Thanks Nikki, Natalie and Gina.  What an incredible journey you have had.  Also thank you to everyone for their generosity in supporting Farmstrong.
Farmstrong is a nationwide rural wellbeing programme that helps farmers and farming families live well to farm well. To find out what works for you and 'lock it in', check out our farmer-to-farmer videos, stories and tips here.
---