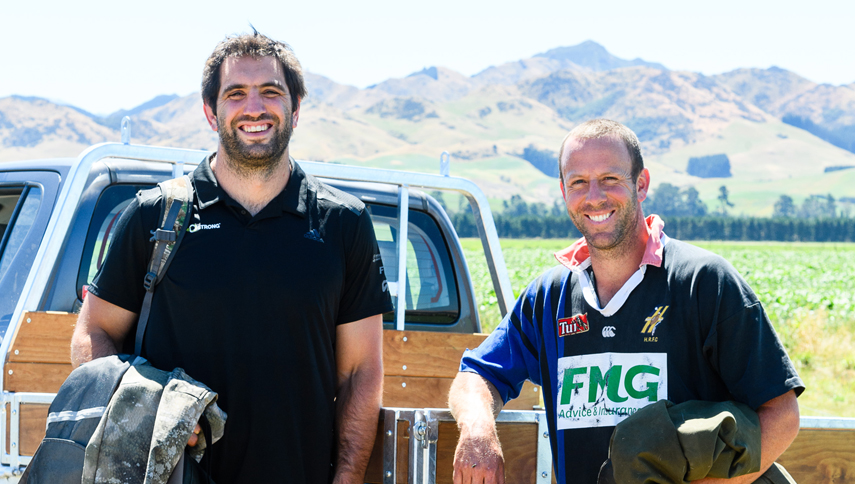 Sam Whitelock says -'Give yourself a break'
---
Farmstrong ambassador Sam Whitelock is urging farmers to treat themselves as their farm's 'number one asset' and take regular breaks to prevent burnout and injury.
Helping farmers cope with the ups and downs of farming is a topic close to my heart. We have recently purchased a farm in the Hawke's Bay where we will resume farming once my playing days are over.
Life gets pretty busy and the demands of rugby can be intense mentally and physically. I'm really keen to pass on what I've learnt along the way and how to manage things when life gets full on.
Grab time out when you can
Taking time off can be as simple as taking that five to ten minutes to step away from what you're doing. What I've learnt is that when you get back into things, you're much fresher and making good decisions. When you're busy it can be hard to do that. But one of the things I'm doing now is planning ten minute slots into my day and sticking to them.
Grabbing those mini breaks during the day, definitely helps boost your performance when dealing with physically and mentally demanding jobs.
Taking time off when you're busy sounds odd, but I've learnt that taking your breaks makes you are a lot more efficient and productive. It makes your decision-making simpler. You're not tired and over thinking things. You achieve better outcomes.
Plan for and lock in long breaks
Despite my crowded rugby calendar, I make sure I take longer breaks during the year so I can recharge my batteries.
The key to making longer breaks possible is to plan them, put them in the calendar and stick to it. I never used to do this and the reality is there's always another task or a reason not to take a break.
Rugby has taught me that I need to get away from things on a regular basis. I've learnt to park everything to the side and make taking a break a priority. I've got a lot better at that.
I also love getting out with mates outside of rugby and going hunting and fishing. It's great to plan it in and make it happen.
Farming and rugby are very similar in that you've got to operate to a calendar. It's hard to take a lot of time of when you're shearing or calf marking or docking, it's the same with rugby. But the key is to plan ahead. If I see a bye weekend during the season, sometimes it can be six months in advance, that's when I lock in a break with my family.
Know when to stop
When you're getting fatigued that's when you've got to say, 'that's enough for today, I'll come back tomorrow fresh and ready to go,' rather than pressing ahead.
Farmstrong recently caught up with Sam down South. He had lots of great tips and advice. We will be sharing his advice on a regular basis.
---