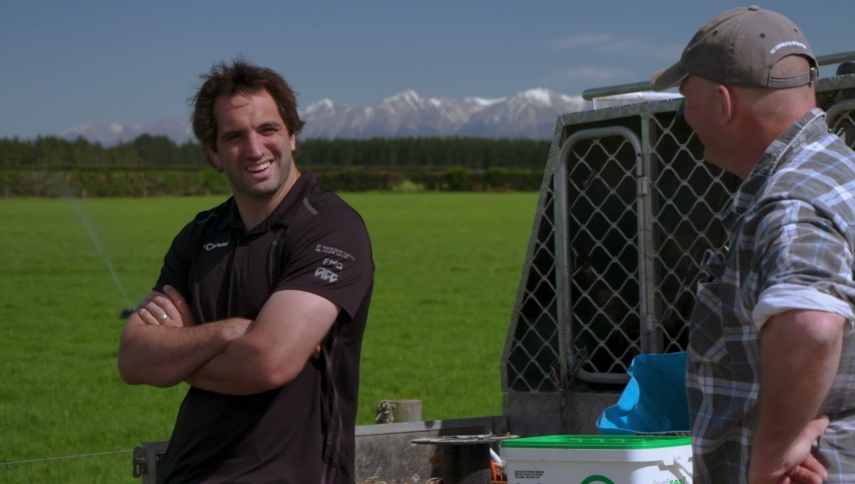 Sam on listening and his wellbeing
---
Farmstrong ambassador Sam Whitelock has shared insightful thoughts and handy tips to help farmers with their wellbeing in two brand new videos.
The short videos were shot on dairy farmer Geoff Spark's picturesque farm near Oxford in Canterbury.
The first video is called Sam on listening in a conversation and looks at how to be a good listener.
Sam says in the video that he works on being comfortable with silence when having a conversation.
"The hardest thing for myself is to stop, not give any advice, just listen and take something in, and actually embrace the silence," he says.
"Sometimes it's good to ask a question and just wait. Sometimes it might be five, 10 or 20 seconds and actually see what comes back rather than jumping in to try and help somebody straight away."
He suggests asking open-ended questions such as "How are you getting on?" and also finding the right time for a conversation, for example during a quiet moment when the person isn't angry or upset.
Showing vulnerability can also be a good way to help someone open up when starting a conversation .
"When you show vulnerability, it helps others open up. Put forward an example of when you were in the same situation, share a similar experience."
 Remember to turn the tap off  
The second video is called Sam chats about his Wellbeing Bank Account  in which Sam reveals the investments he makes into his Wellbeing Bank Account so that when he's going through tough times, he has something to draw on.
Some of the wellbeing investments he makes include family time, being outdoors, hunting and fishing, and grabbing some time throughout the day, even if it's only 10 minutes, to do something for himself.
Withdrawals include things like accidents and injuries, poor sleep, and adverse weather. Worrying too much is also a big one, something he likens to a tap.
"You are allowed to worry [but] make sure it's like a tap. If you're going to have a complaint about something, turn the tap right on and have a good discussion, and then turn it off," he says.
"There's nothing worse than having that tap half on and it's dripping out constantly and you are worrying about something [all the time]."
In another video called Geoff Spark talks to Sam about his Wellbeing Bank Account  Geoff talks about his own Wellbeing Bank Account with Sam.
The videos can be found on the Farmstrong website.
---