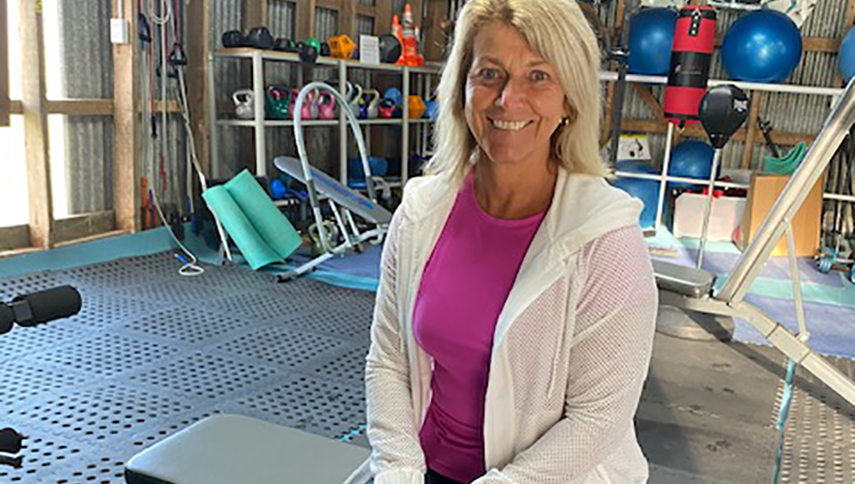 Passionate mental health advocate's next big project
---
Felicity Clark is brimming with excitement about her latest project to help people improve their mental health and wellbeing – something she's been doing for more than 20 years.
Felicity, or Fliss as she's known, runs a dairy farm with her husband Kevin in Waimana in the Bay of Plenty. She's well known there for setting up a community gym in a local woolshed in 1998 to provide a place for people to get together and work on their fitness.
The gym, which is still going strong, provides a place for locals to meet, have a break from the farm, and exercise, which is so important when it comes to wellbeing, Fliss says.
"The feedback from the gym has been amazing and I know from personal experience how important exercise is when it comes to looking after your wellbeing."
Her latest venture is a new business she's setting up with her daughter called Walkway to Wellness, which will provide wellbeing workshops for women.
Fliss, who has a diploma in psychology and counselling and is a qualified personal trainer, started working for the Rural Support Trust at the beginning of 2020.
Workshops to help rural women 
"I discovered last year a lot of rural women in my community were struggling a bit with lockdown and home schooling and not having enough time for themselves," the 2020 Women of Influence finalist says.
The discovery gave Fliss the idea to run some wellbeing workshops for rural women, which were funded by the Rural Support Trust, Rural Women, Fonterra, and Beef + Lamb NZ once lockdown lifted.
"They were a huge hit and it really inspired me to start up my own business running wellbeing workshops. While it's a business, I'm not doing it to make any money, I'm doing it because I'm so passionate about helping others," she says.
Some of the 2020 workshops were held at her holiday house in Lake Rotoma, which provided a beautiful and peaceful setting.
"The positive feedback blew me away. The workshops gave the women a chance to get off the farm, do something for themselves, connect with others, and learn tools to help them look after their wellbeing," Fliss says.
The new day-long workshops will be similar to the ones run in 2020.
"A typical day will involve yoga in the morning followed by mini workshops covering a range of wellbeing topics. Healthy, delicious food is provided, and we also have resource folders that people can take home that have tools to help them look after their wellbeing."
Personal experience of mental health challenges 
Mental health and wellbeing is a topic close to Felicity's heart.
"I know what it's like to struggle with mental health. I had post-traumatic stress disorder as a child, I lost my two-year-old daughter to leukaemia and I've experienced burnout, but I was able to come through it," she says.
"Everybody will have a time in their life when things go wrong. Many things are out of our control, but we can take steps to try to control our wellbeing."
She says, for example, that she's learnt to change from a fixed mindset to one of growth.
"You learn from your challenges and setbacks. My biggest piece of advice is to live in the present moment, not the past or the future, but right now."
If you'd like more information on the gym or the Walkway to Wellness wellbeing workshops, please email Fliss at fclarky@gmail.com 
---