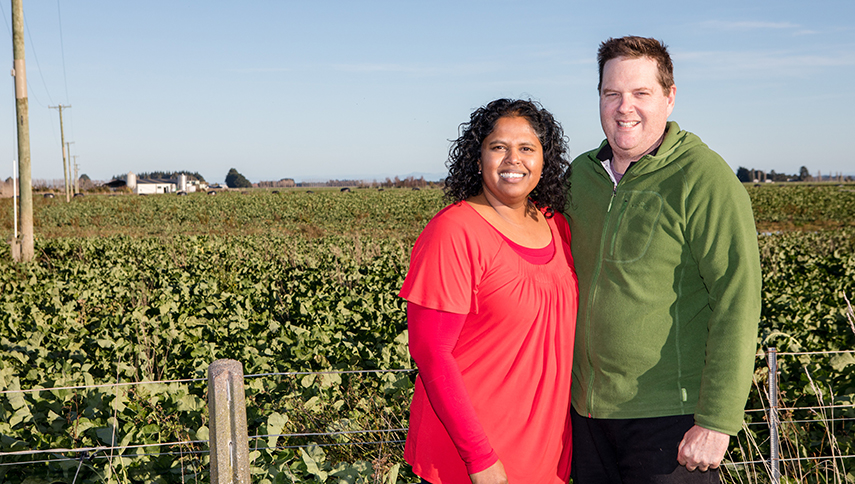 Taking time to thrive
---
Southland dairy farmer Loshni Manikam is on a mission to help farming women get more out of life. Her new free e-book – '12 Tips To Help You Thrive' – shares practical advice on how women can take time for their own needs whilst juggling multiple responsibilities.
In 2018, a Farmstrong survey of nearly 800 women in farming found 90% felt negatively impacted by fatigue, workload, lack of sleep and stress. A third wanted more time off the farm and a quarter wanted more time to themselves.
Author Loshni Manikam says the study also highlighted another issue. "It's very hard to get women who are caring and nurturing and prioritising everyone else's needs above their own – the household, the kids, the farm, the farming team, the stock – to suddenly put themselves at the top of the list."
"The research definitely showed farming women realise the way they're living is unsustainable. They know the challenges and they also what they need to do to alleviate those things – sleep, exercise, time off farm etc. – but there's still a gap between awareness and action. That's why I produced this book – to support women to take action."
"I wanted something easy, practical and real, because there's already a lot of information out there on wellbeing. These are honest stories that resonate with farming women."
She's hit the bullseye. The book's already been downloaded hundreds of times.
"I think it proves we all need inspiration and motivation sometimes to do the things we know we need to do. If we want things to really change, we need to support these women to take action. We need to find ways to deliver wellbeing messages in ways that women will consume and then use."
Great advice from well know farming women
Many of the women who appear in the book are well-known in farming circles. Fiona Gower is a past president of Rural Women NZ. She shares how she's learnt to say 'no' to others to make time for her own needs. "If I have been working in the office during the day, I do no more work after dinner and I do something for myself – like reading a book. We need to take time for ourselves, we need to care for the carer," she says in the book.
West Coast sharemilker and entrepreneur Siobhan O'Malley outlines why she hired a cleaner while she was a stay-at-home mum. "The weight that came off my shoulders or my mental load, just knowing someone was going to regularly clean the house, and I could stop reminding myself to do it and feeling bad because I never got there, was huge."
Loshni says she deliberately chose women who are perceived as leaders in the sector. "The fact that these women have allowed themselves to be vulnerable and human is very powerful and inspiring for other women. If Fiona Gower has had to learn how to say 'no' because she has too much on her plate, it makes you think, maybe I should do the same."
Life is not a dress rehearsal
Loshni's also set up her own virtual membership group – The Thrive Tribe – for women who want ongoing support. ""One of the challenges of living rurally is that it's very easy to go into your shell and think you're the only one who feels the way you do. The most important thing I try to do is make women understand they are not alone. Every month we get together on a Zoom call where I share training and we have a closed Facebook group where we can share ideas and encouragement."
"What I've found from setting up the Thriving Farming Women Facebook Group is that the support that's required most is motivation and accountability. For example, every Wednesday I put up a post called Water Wednesday and ask the women: 'how many glasses of water are you going to drink today?'. Their answers are so varied.  Even though water is one of our core needs as human beings, many women still don't drink enough as part of their self-care because they're so busy and don't prioritise their own needs. That's why the camaraderie and accountability you get from being part of a group is so important."
Loshni is farming mum herself (she was NZ Dairy Woman of the Year in 2018) and has been coaching rural women for many years and worked with organisations such as Rural Women NZ, the Dairy Women's Network and Agri-Women's Development Trust. She says she's discovered that women are much more likely to change once they realise how much impact their own wellbeing has on the people they love.
"I say to them when you thrive, everybody around you benefits. And when you're not in a good place, it's much easier for 'angry mum' and 'grumpy wife' to come out. And women will laugh and nod at this. Everyone knows what I'm talking about. If you're not thriving, who are you being to your partner or your farm team or community?  That's when the room goes silent. It seems to be a wake-up call."
"My message to rural women is very simple. We only get one life. This isn't a dress rehearsal. You don't get to come back and do it all again. So why not give it your best shot? Why not try to lead a life where you are thriving? By doing something for yourself, and taking time for your own needs, you're going to have a positive impact on everyone around you. Now that the kids are back at school, there's hopefully a little more space and time for women to start doing more of what they want to do. If you're stuck for ideas, this book is the place to start."
Farmstrong is an award-winning rural wellbeing programme that helps farmers and farming families live well to farm well. To find out what works for you and 'lock it in', check out our farmer-to-farmer videos, stories and tips on  www.farmstrong.co.nz.
Further Information
To download the free eBook:
https://thriving-farming-women.mykajabi.com/opt-in-eBook-Thrive-Guide
To join Loshni's free private Facebook Group for women who want to do more of the things that will help them thrive:
(1) Thriving Farming Women Group | Facebook
To find out more about THE THRIVE TRIBE – a paid monthly membership of like-minded women who have come together to support each other to thrive:
https://thriving-farming-women.mykajabi.com/The-Thrive-Tribe
---