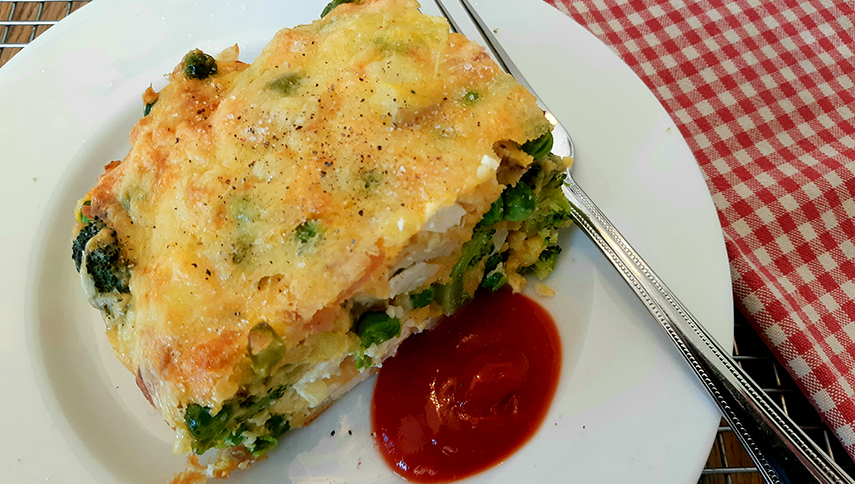 Lunchtime pie
---
Module Overview
Despite its name, this pie is delicious served at any time of the day. Make a double batch and freeze individual slices – take them out the night before for a quick, portable lunch the next day. A slice of lunchtime pie also makes a fantastic breakfast option if you're heading out on farm early and need a quick, nourishing bite to eat.
Ingredients
2 large potatoes, cooked and diced into 2cm chunks
1 cup of frozen peas
1 cup of broccoli florets, chopped into small pieces and lightly cooked
1 onion, finely diced
200g ham, cooked bacon or leftover meat, diced
100g feta cheese, crumbled
1 cup self-raising flour
6 eggs, lightly beaten
¼ cup oil (rice bran or olive)
Salt and pepper
½ cup cheese, grated
Make it happen
Preheat the oven to 180 degrees. Line a baking dish (20cm x 20cm works well) with baking paper.
Combine veggies, meat and feta in a large bowl.  In a separate bowl mix together flour, eggs, oil and seasoning, then pour this mixture into the veggie bowl and stir to combine everything thoroughly. Pour into the prepared baking dish and smooth out. Top with grated cheese and bake for 30- 35 minutes (or until golden brown and cooked through).
 Nutrition
Having cooked, cooled and reheated potato provides a good source of resistant starch, a non-digestible starch that helps keep our beneficial gut bacteria happy.
A good source of veggies at lunch – to provide your body with fibre, vitamins, minerals and antioxidants.
Eggs and cheese are a good source of protein, helping us feel fuller for longer and giving us energy to get through the afternoon.
For a balanced lunch, serve with a piece of fruit and a handful of nut.s
Kitchen hacks
Make an extra batch to freeze for quick and delicious lunches when time is tight.
Mix up the veggies depending on what you have in the fridge – capsicum, mushroom, tomato, corn and zucchini work well too.
Serve with tomato sauce, relish or chutney.
---