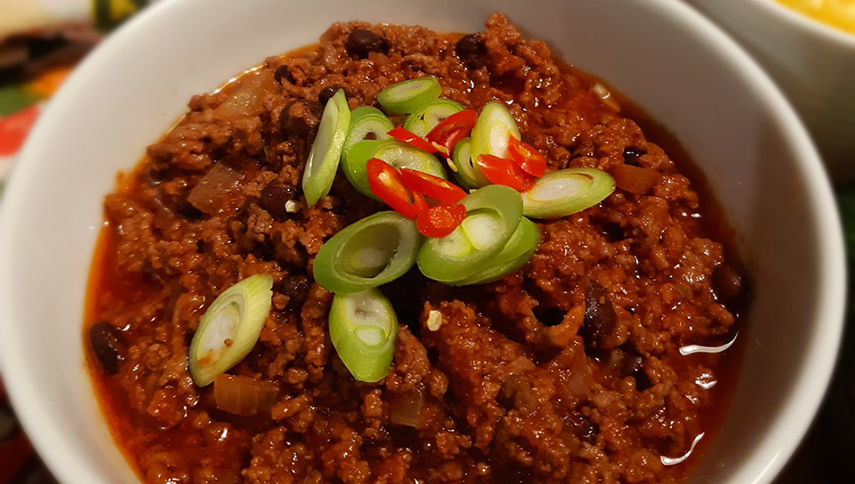 Slow cooked mexican beef mince
---
This Mexican Beef Mince is so versatile – load it onto nacho chips or baked kumara with sour cream and spring onions, top with creamy mashed potato and serve as a cottage pie, spoon onto pasta and serve with a green salad or enjoy it as savoury mince on toast for breakfast.
Ingredients
2 teaspoons oil (eg rice bran, olive oil)
1 onion, finely diced
3 cloves garlic, minced
1kg lean beef mince
2 teaspoons ground cumin
1 teaspoon smoked paprika
2 carrots, peeled and grated
2 tin of tomatoes, pureed
1 cup water
1 teaspoon chicken or beef stock powder
¼ cup tomato paste
1 teaspoon dried oregano
Large pinch of chilli flakes (optional)
1 tin of black beans or kidney beans, rinsed and drained
Salt and pepper
Make it happen
Turn your slow cooker to low. In a large fry pan heat the oil over low-moderate heat and cook the onion for 5 minutes until softened, but not browned. Add the garlic and cook for another minute. Increase the heat to moderate and add in the beef mince, cumin, and smoked paprika. Stir to break up the mince and cook until lightly browned.
Put the cooked mince mixture into the slow cooker and add remaining ingredients. Stir well, pop on the lid on and cook for 8 hours. Before serving, skim off any fat that sits on top.
Serve it your way
Mexican – spoon onto grilled, cheesy nacho chips, top with avocado, sour cream, chopped tomato, spring onion.
Kiwi – top baked kumara with the beef mix, add grated cheese, sour cream/Greek yoghurt and serve with coleslaw.
British – spoon into a baking dish, top with creamy mashed potato and bake at 180 degrees for 30 minutes, serve with plenty of green veggies.
Italian – Mix through cooked pasta and top with grated parmesan cheese, serve with a green salad.
Winter Warmer – line a baking dish with puff pastry, spoon cooled beef mix in along with frozen peas and corn, top with another sheet of pastry. Seal well, brush with egg wash and bake at 200 degrees for 40 minutes.
Breakfast/brunch – serve on toast, or in a toasted sandwich.
Kitchen hacks
You can skip the step of browning the meat and onions if time is really tight, but the flavour and texture is better if you follow this step.
Why not double the recipe (if your slow cooker is big enough!) and freeze the extra serves for a quick and delicious meal when time is short.
To make the meal go even further, add in another tin of kidney beans, black beans or chilli beans.
If you like spicy food, add in extra chilli.
---