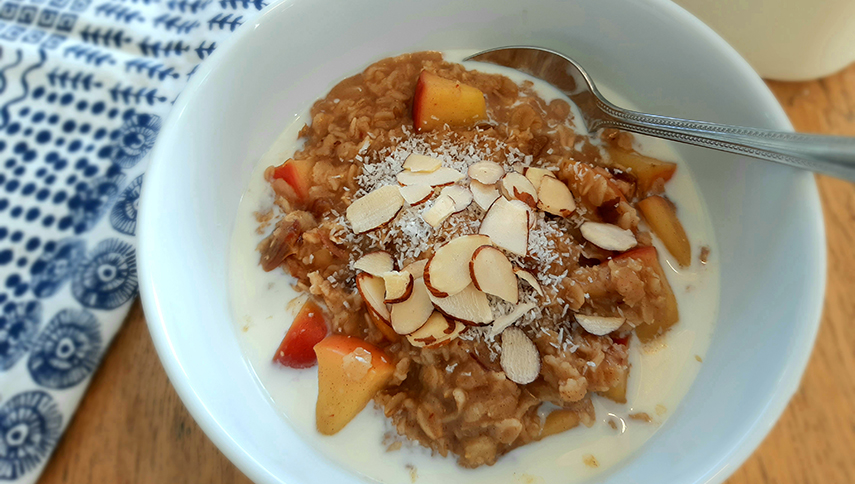 Apple crumble porridge
---
Warming porridge, with the flavours and crunch of apple crumble, is a great start to the day. Thanks to the fibre in rolled oats, the release of carbohydrates into your body is slow and steady, helping you feel satisfied for longer.
1 tablespoon butter
2 large apples, chopped into 1cm chunks
¼ cup sultanas
1 teaspoon ground cinnamon
1 teaspoon ground ginger
1 tablespoon maple syrup or honey (optional)
1 and ½ cups rolled oats
3 and ½ cups water
¼ teaspoon salt
To top
½ cup shredded coconut
½ cup sliced almonds
Porridge additions – Milk, Greek yoghurt, brown sugar/maple syrup
Make it happen
In a medium-large pot, melt butter over low-moderate heat. Add apple, sultanas and spices, stir well, add a splash of water and cook for 5 minutes or until apples have softened and water evaporated. Stir in maple syrup/honey if using, then add oats, water and salt. Bring to the boil, then reduce the heat and simmer for 3-4 minutes or until porridge has thickened.
Divide into bowls and top with the coconut and almonds, as well as any porridge additions you enjoy.
Nutrition
Rolled oats are considered to be a low Glycemic Index food, which means they break down slowly to fuel your body and keep blood glucose levels steady
The apple and sultanas add additional fibre and antioxidants
Coconut and almonds provide plant-based fats, while Greek yoghurt and milk are good sources of protein and calcium
Kitchen hacks
You can make porridge in a slow cooker, have it cooking overnight so it's all ready to go in the morning when you wake up! Leave the sultanas until just before serving though as they lose all their sweetness into the porridge and end up tasting a bit bland if they're cooked all night!
You could use pear instead of apple, and chopped brazil nuts instead of almonds if you prefer
---