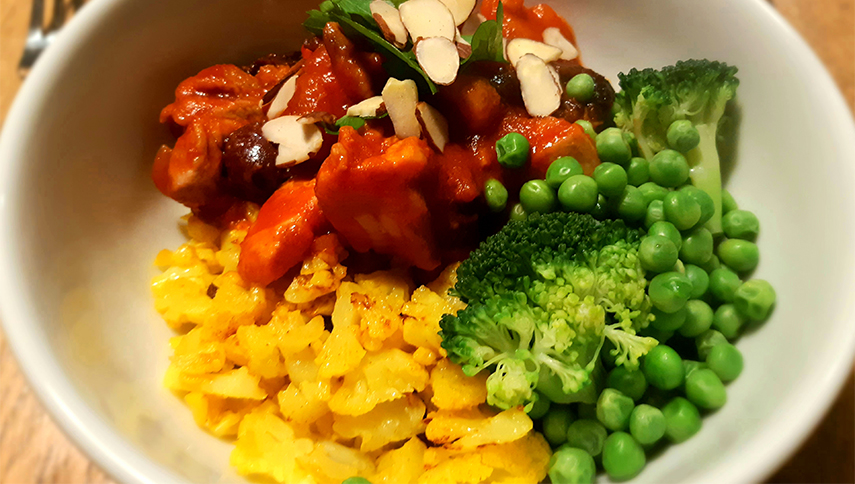 Chicken tagine
---
This warming, spiced chicken casserole is sweetened with dried fruits to create a delicious yet easy meal. Serve with couscous, mashed potato, rice or turmeric cauliflower rice.
Ingredients
1 tablespoon oil
500g boneless and skinless chicken thighs, cut into 2cm chunks
1 onion, thinly sliced
2 cloves garlic, minced
1 teaspoon ground cumin
1/2 teaspoon cinnamon
1 teaspoon ground coriander
1 tin tomatoes, pureed
2 teaspoons honey
¼ cup prunes, halved
¼ cup dried apricots, halved
10 olives, halved
To serve – sliced almonds, chopped parsley, salt and pepper
Make it happen
Heat the oil in a large frypan or wok over moderate heat. Season the chopped chicken with salt and pepper then cook in the frypan until golden brown on each side. Reduce the heat to low-medium and add the onion, stirring well to coat in the oil and chicken juices. Cook for 5-7 minutes or until the onion is softened and translucent.
Add the garlic and spices to the mixture, stirring well and cook for a minute or so until the spices and garlic become fragrant.
Add in the chopped tomatoes and stir well to lift any browned goodness off the bottom of the pan. Fill a third of the empty tinned tomato can with water and swirl around to get the tomato residue off and add this to the pan.
Add the honey, dried fruits and olives, pop a lid on and simmer away gently for 10-15 minutes to bring out all the flavours of the tagine. Season well with salt and pepper as needed and continue to simmer for another 5 minutes to thicken the sauce up a little.
Serve on top of rice, cauliflower rice, mashed potato or couscous, and top with sliced almonds and chopped parsley. A side of veggies will balance the meal out – fresh, green veggies will work in perfectly.
Turmeric Cauliflower Rice
1 tablespoon oil
1 teaspoon turmeric
3 cups cauliflower, very finely chopped
3 tablespoons water
Salt and pepper
Heat oil and turmeric in a large frypan over moderate heat for one minute, stirring to combine. Add the cauliflower, water and salt, stir thoroughly then cover and cook for 5-7 minutes or until cauliflower rice is tender.
Nutrition
Lean chicken is a good source of protein, as well as providing iron and zinc.
Tinned tomatoes are a rich source of lycopene, a powerful antioxidant shown to be beneficial for prostate health.
Olives and almonds provide healthy fats to help us feel fuller for longer, while promoting good brain health.
Kitchen hacks
If you like, you could also add in some veggies to the tagine when you add the dried fruit and olives. Diced pumpkin, frozen peas or broccoli all work well.
Make a double batch and freeze half so you've got a quick and easy meal when you're busy.
---