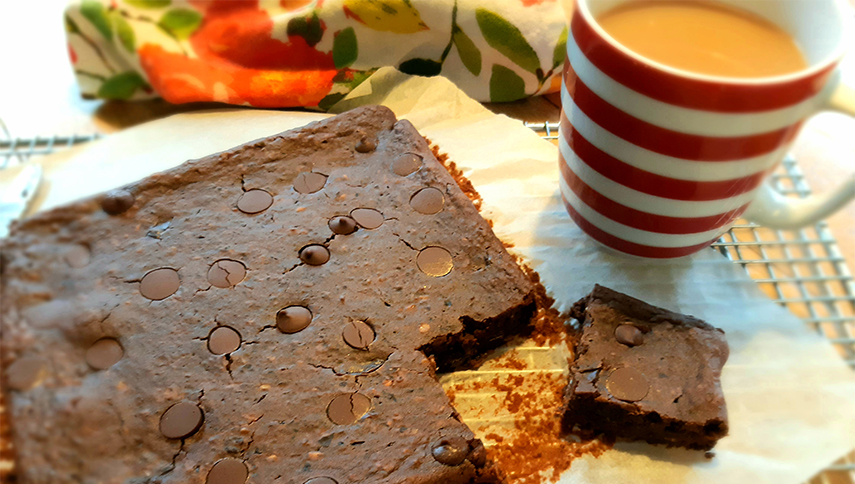 Energy brownie
---
These chocolate brownies make for a delicious sweet treat, while the secret ingredient of black beans provides extra fibre and plant protein. Don't tell anyone about the black beans, they won't even know they are in there.
Ingredients
1 tin black beans, rinsed and drained
2 tablespoons cocoa
½ cup quick cook oats
Pinch of salt
1/3 cup maple syrup
2 tablespoons sugar
¼ cup oil
1 teaspoon vanilla
½ teaspoon baking powder
1 egg
½ cup chocolate chips (plus extra ¼ cup to scatter on top)
Make it happen
Preheat oven to 180 degrees Celsius.
Blend the black beans, cocoa, oats, salt, maple syrup, sugar, oil, vanilla, baking powder and egg in a food processor until very smooth (don't skimp on this step or you may end up with black bean chunks in your brownie!).  Stir through ½ cup of the chocolate chips carefully.
Pour into a lined baking pan  and scatter remaining chocolate chips over the top. Bake for 12-15 minutes or until cooked to your liking (we like ours a little undone and fudgey).
Keep the brownie in the pan and once cooled, refrigerate for at least an hour to help the brownie firm up.
Nutrition
Black beans and oats are a great source of fibre to keep our insides healthy, and help to reduce blood cholesterol and blood glucose levels.
The black beans and egg provide protein to help us feel fuller for longer.
Using dark chocolate chips will provide additional antioxidants.
Kitchen hacks
Make sure you blend the mixture really well in your food processor so it is super smooth, this will give a better texture to the brownie.
Store in the fridge.
---