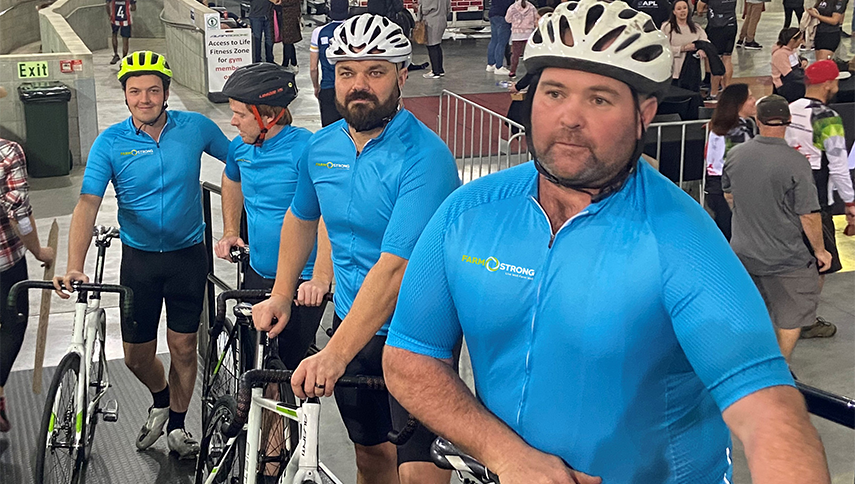 Farmstrong Fliers take on the world
---
What do you do to get off the farm?  Connect with mates? Meet new people? Get a sweat up and get the heart pumping? Challenge yourself and get completely out of your comfort zone?
Five rural blokes recently ticked all those boxes when they signed up to have a crack at the BNZ Corporate Challenge at the Avantidrome in Cambridge on 3 July.
Farmstrong local champion and supporter Marc Gascoigne organised the team of novice riders to have a go.
"Apart from me, no-one had ridden on the track before. We had fellow farmers Owen Gullery and Matt Risi and representing the sponsors Farmstrong were rural specialists Josh Rainey and Glenn Williams. We had six sessions of training with an Avantidrome coach to get ready for the big race day," Marc says.
"The first time you ride on the track is pretty intimidating – the bikes have no gears, no brakes, and the banks on the end of the track are at 45 degrees. They are bloody steep. If you don't hit them at enough speed, you'll fall off and slide to the bottom, and it's a long way to fall when you're riding around the top.
"But these guys tackled the challenge really well and we had some good sessions, getting fitter, and working on our technique and best starting order for the event, which was a team Italian pursuit."
Nail-biting race day
On the day, the team set a blistering time in their first race, knocking two seconds off their best training time.
"It's amazing how the atmosphere of a big crowd as well as 42 other teams watching can motivate you and get you to pull something special out. Despite being complete novices, after the second race we just missed out on qualifying for the bronze medal race-off and were ranked fifth out of 33 teams in our grade," he says.
For the final race, the Farmstrong Fliers were put up against their archrivals, the team from Agfirst consultants.
"The Agfirst team had experienced riders and all the flash gear. We were novices and were just riding the standard Avantidrome hire bikes. Despite that, we were only beaten by them in the second round by 0.2 of a second so we really fancied our chances. There was plenty of trash talk between the teams leading up to the ultimate showdown with them, so we really wanted to knock them off their perch," Marc says.
"Unfortunately, the team asked me to ride the anchoring fourth position, but in the big race that's what I was – an anchor. It all went a bit pear shaped and I lost contact with the team, and in the fourth sprint lap had nothing left. We went down by three seconds this time and had to watch the Agfirst celebrations that have lasted for days now. They really know how to rub it in."
Benefits of training huge
Despite the disappointment of that last race, the Farmstrong Fliers achieved a huge amount in six weeks of training – not least of which was getting together for a lot of laughs and challenging themselves to have a go at something completely out of their comfort zone.
It was also an amazing opportunity to have a go on the Avantidrome, which is truly a world class facility, Marc says.
"The next challenge we're thinking about is the Lake Taupo Cycle Challenge in November. One hundred and sixty km around the lake will be very different to a 1km sprint around the track, and it's going to take plenty of training, but we'll nail it, I'm sure."
If you'd like to get out of your comfort zone and have a crack at something challenging, then why not be part of the Farmstrong team for the Lake Taupo Cycle Challenge? Get fit, meet new people, have a lot of laughs and try something completely different. Email Marc Gascoigne if you'd like to give it a crack.
---