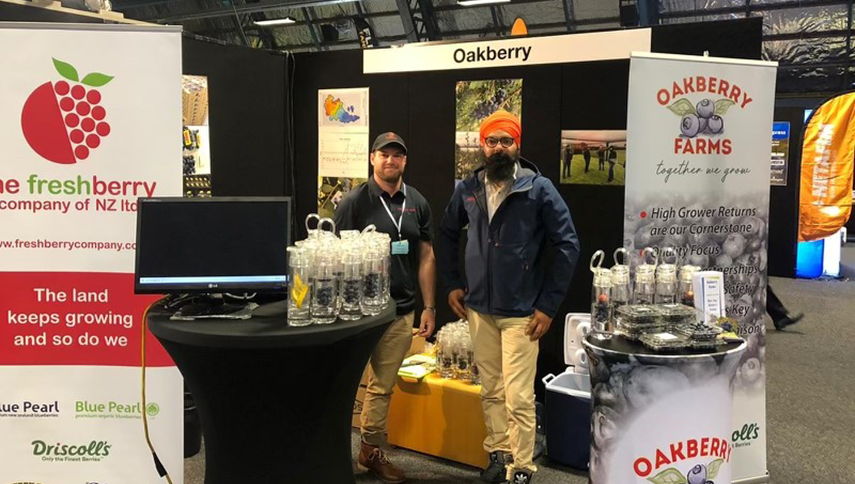 Daily chats improve blueberry workers' wellbeing
---
Getting together for regular breaks and chats throughout the day has had a noticeable impact on a group of blueberry workers' wellbeing, says their boss.
Oakberry Farms Limited, which is owned by Dan and Jacqui Peach, is located in Hamilton and grows and packs blueberries for export and the domestic market.
Operations manager Inder Singh says their daily catch ups give workers a chance to talk about work and/or personal issues.
"In the mornings we get together to say 'hello' and check how everybody is doing. If anybody has any issues we talk and offer advice and solutions," Inder says.
The team also gets together for morning tea, lunch and afternoon tea, which is more social.
"Getting together and talking helps get things off your chest and gives you a break, which helps you feel refreshed."
Even though workers have different roles at the farm, regular meetings help keep the communication lines open.
"The key is having communication open and going on all the time, not just every now and again," he says.
"We've been focussing on doing these regular catchups over the last couple of years and over the past six months we are getting pretty good at it."
Overcoming industry challenges
Early this year, Farmstrong partnered with Horticulture NZ to carry out research to better understand the wellbeing needs of people working in the horticulture and viticulture industries.
It found the top three wellbeing challenges were too much work on compliance, workload/fitting everything in, and lack of available employees/contract workers.
Inder, who's worked in the blueberry industry for 10 years, says each season is different in terms of challenges.
Last season, he found the three biggest challenges were finding labour, having enough irrigation water and dealing with the weather for harvest.
"COVID-19 left us short on labour, but we were lucky to be able to find locals to work. We also started collecting our own water from tunnels and invested in massive water storage bladders."
He says the weather is always a challenge, especially frosts.
"You can't control the weather, but you can do things to help lessen the impact."
His advice to others in the industry is to make sure everybody is communicating.
"Good communication creates good teams and good workspaces."
Benefits of catch ups noticeable
Inder says the benefits of his team's regular catch ups are noticeable, both for the staff and for himself.
"I can see a 100% change in the staff for the better, they are much more positive."
The team also hangs out after work on Fridays in summer and socialises.
Going on field trips and to industry events with colleagues has also helped improve people's wellbeing.
"We are out together in a different atmosphere relaxing, which is really great for strengthening bonds."
Inder says in the past he worked long hours and didn't look after himself.
"I had my fingers in a few pies and some personal issues and things got worse because I was working all the time and wasn't looking after myself.
"I cut down my load and made sure I had one day off a week. I also started talking about how I was feeling, which really helped."
Check out the full results of the research in this colourful, easy-to-read infographic.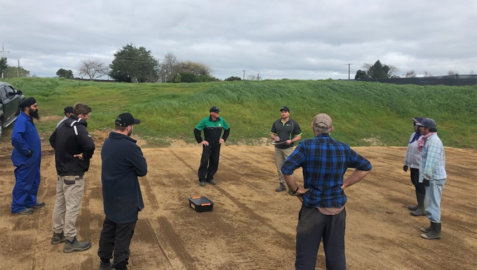 ---