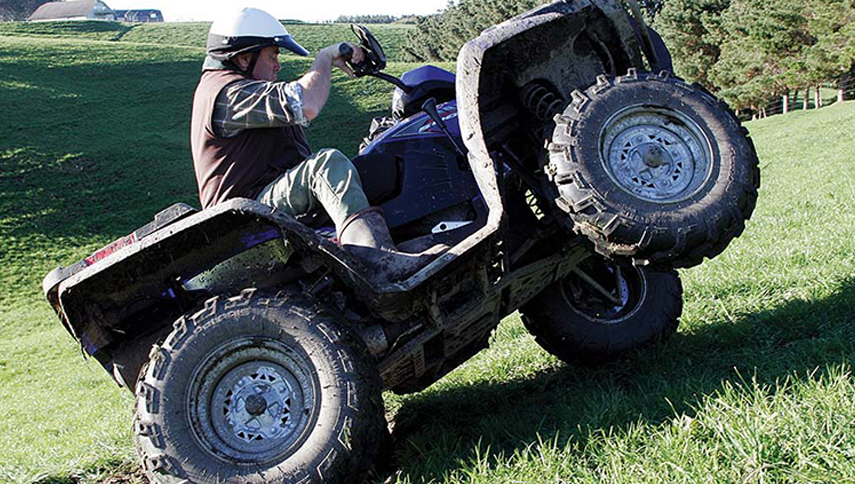 Dangerously tired
---
Fatigue played a major role in the quad bike accident that nearly cost Chris Biddles his life. Now he's warning other farmers of the dangers of overwork.
Chris runs Te Atarangi Angus stud at Te Kopuru, south-west of Dargaville. The family has poured 36 years of hard work into the thriving 1,000 ha, 260 cow operation.
Earlier this year, Chris was due to have a total knee replacement. To make sure he could take time off to recuperate, he and the team decided to put in more hours over summer to get ahead.
"I wanted to set the farm up for when I was away, so we just worked and worked. I think we only had three days off – Christmas, New Year's day and one other day when we went fishing. Other than that, we did really long hours. Toward the end of January, we were probably a month ahead of where we'd normally be, but I was exhausted."
On the first of February, that was about to catch up with Chris in a big way.
"I was really tired and I knew I was tired, and because of that, I made a dumb decision. I was riding the quad along a ridge to the safe place I usually go down, but I went past it and tried another place. As soon as I put the nose of the quad over the hill I knew I was stuffed."
"I whacked it into 4-wheel drive quickly, but it just flipped. Luckily it catapulted me off and I landed quite a bit in front. But the quad was coming down behind me so I was scrambling. Then it landed on my ankle. There was virtually nothing left of it, so it's pretty amazing I'm walking now. I broke my shoulder in half as well."
Fortunately for Chris, at this point, his luck took a turn for the better. He somehow managed to free his foot and crawl 35 metres uphill – halfway up he had to return to the quad to retrieve his radio telephone – to issue a mayday and get rescued by chopper. His ankle was painstakingly, but successfully, reconstructed during marathon surgery sessions.
Chris has recently been passing on his painful lesson at presentations for other farmers organised by Beef and Lamb.
"Fatigue is a huge risk. I remember being told at an ACC presentation years ago that 'You'll make a decision at 2pm on your quad if you've been riding all day, that you would not make at 8am in the morning.' That proved to be so true."
Chris is not a risk-taker and prided himself on his safety practices.  A few weeks before his accident he'd gone to mow one of his hills after a long day and deliberately stopped the tractor and asked himself, 'would I mow you at 8am in the morning?' But a couple of weeks later when he got on the quad he says he was just too tired to stop and think.
"That's the danger of fatigue," he says. "You do something you wouldn't normally do."
Chris has introduced a raft of changes into his farming operation to avoid any chance of a repeat.
"We've reduced our working hours. We've got an extra person working for us. In our team meetings, we discuss people's physical and mental state.  We now share that sort of stuff. And we simply don't have the long days that we used to have."
Chris says he's been amazed at the number of farmers he's met since his accident who've shared similar stories.
"The thing that's absolutely shocked me is so many farmers have told me how they've rolled their quad and they tell me as if it doesn't matter. People have got to wake up. It's not funny or a matter of course if you roll a quad and walk away from it. You've got to ask, why am I making these dumb decisions? Don't put yourself in that position."
"I knew that I was tired. I'd sat with a mate a few days before and told him how tired I was, but I still didn't consider the consequences. This is a busy time of the year, so if you realise you're overworking you need to sit down with a cup of coffee and ask yourself, 'If I keep doing everything the way I am, am I putting myself and other people at risk? Do I need to slow down?'"
Chris isn't one to sit around feeling sorry for himself, but says the accident made him reflect on the potential consequences for others.
"I really worry about how everyone would have got by if I was dead. When I was in the hospital, we ran into water problems, and I was sitting on the phone telling them what they needed to do and I thought, 'what would they do right now if I wasn't here?'"
Despite the accident, Chris' love of farming remains undiminished. "I love the challenge of farming. Every day's different. I want to continue farming well into my 70s, but I need to work out how to do it physically. I'm still hoping to get back to a reasonable state of work, but I'll never be what I was. I've got about 95% of my shoulder use back. As for the ankle, I'll probably be spending the next 12 months to two years working out what's best."
"But I realise I was incredibly lucky to survive. I guess, someone, somewhere must've just thought, 'this guy hasn't pissed off enough people in his life yet, we need him to hang around a bit longer'."
Farmstrong is a rural wellbeing programme that helps farmers and farming families live well to farm well. To find out what works for you and 'lock it in', check out our farmer-to-farmer videos, stories and tips on www.farmstrong.co.nz.
---