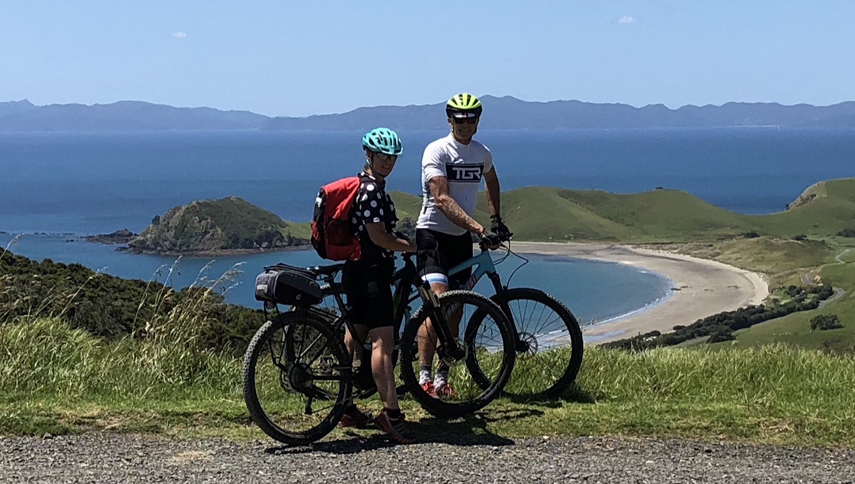 The buzz of giving back
---
Get involved in your community
Getting involved in your community is a great way of investing in your own wellbeing says Farmstrong Ambassador Sam Whitelock.
"Sport has taught me that making a habit of investing in your wellbeing means you will have some to draw on when you are under the pump. To farm well, you need to live well."
"One thing I've learnt being Farmstrong's Ambassador is that getting involved in your community really energises you and tops up your own wellbeing. There are lots of ways you can give. It may be spending some one-on-one time with your kids or supporting an employee who is having a tough time. It may be offering to feed your neighbour's dogs so they can have time off or organising a community get-together. Here are some great examples of farmers contributing to their local community."
Kate and Mike Gee-Taylor
Rangiwahia based Kate and Mike organised a group e-bike ride to the Bridge to Nowhere in Whanganui for 23 local farmers. "This was about getting farmers off-farm, meeting new people and talking about other things apart from farming. For a lot of them it was the first time in a while they'd had a day off, or just doing their own thing. It made me realise the true value of friends and catching up with them regularly."
Paul Walker
Dairy farmer Paul helps run a social cricket team of Bay of Plenty farmers and growers – 'Benaud's Backyard Bumpkins'. "It might be just one night a week, but the cricket makes you get off the farm and allows you to let off steam with other guys who can relate to your situation," Paul says he gets a lot pleasure organising the team. During the winter he swaps codes and helps run the local junior rugby club with wife Pip for the same reason. "Giving back is good for you."
Nick Bertram
Nick is a busy 50/50 sharemilker with 450 cows but he made getting off-farm a non-negotiable part of his week by joining the volunteer fire brigade. "The biggest stress relief for me is having an off-farm activity so I'm not consumed by farming. The brigade allows me to be part of a team and get off-farm. We train once a week and every Friday night we head somewhere and have a few quiet ones and dinner together. It's been brilliant. You spend time as a firefighter and just come back a different person."
Andrew Shand and Dave Smith
Marton farmers Andrew Shand and Dave Smith have been organising 'District Hall Get-Togethers' for up to 80 farmers and their families. They also organised a Pedal for Pleasure bike race for 170 riders. "No-one ever used to talk about wellbeing in farming. We've always talked endlessly about stock, pastures and fertilisers, but staying well is an important part of farming too. Both of the events we organised were very simple to do. The hardest thing was getting started," says Dave.
Marc Gascoigne
Cambridge dairy farmer Marc Gascoigne helps run the Te Awamutu Cycle club. "Cycling's a big part of my socialising. I'm getting the exercise, I'm connecting with people meeting up for rides and I'm serving others because I'm president of the club. When you're giving to others like that it makes you feel a hell of a lot better yourself."
---