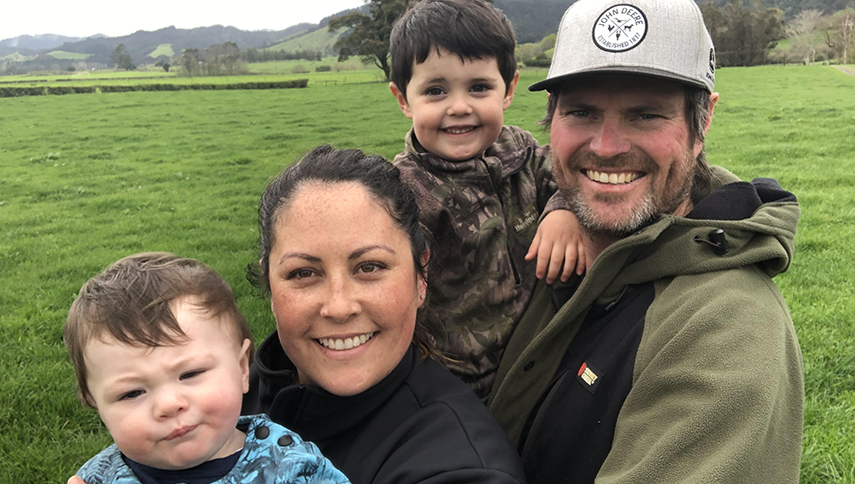 From the fashion world to dairy farming
---
Leaving the glitzy world of fashion to become a dairy farmer has been a steep learning curve for Aucklander Amber Carpenter.
Swapping out high heels for gumboots has had its moments, but she loves the challenges and rewards that rural life brings.
She tries to take the lessons she learnt in the corporate world and apply them to farming life, especially when it comes to wellbeing.
Amber and her fourth-generation dairy farmer husband, Fraser, milk 550 cows in Paparimu, south of Auckland, and also have two beef farms, which stock 450 cows.
They met at a 21st birthday party when Amber was working for fashion house Karen Walker and haven't looked back since.
Wellbeing a priority
Wellbeing is a priority for the mother of two young kids, but looking after it can be challenging on the farm compared to the corporate world.
"Coming from a corporate background, businesses have health and wellbeing departments. They have people setting up yoga classes and mindfulness sessions and giving that to their employees."
She says farmers run their own business so don't have those things provided for them.
"Implementing health and wellbeing in a corporate world is easy when you've got someone doing it for you but when you're a farmer and business owner you are the health and wellbeing department… so it's really challenging."
She says having wellbeing tools and resources available like the ones Farmstrong offers, and finding ways to implement them, is key.
"It's important to have the tools and resources because a lot of farmers don't know where to start to help with health and wellbeing."
Exercising for wellbeing
One way Amber looks after her wellbeing is through exercise.
She says after having her son Oliver she didn't exercise, and it affected her mental health.
She makes sure she does regular fitness classes, either on Zoom or in person, depending on whether she's in lockdown.
"It gives me a quick time off farm to go into town and get away from everybody and just have that space for myself.'
She says keeping fit and connecting with others is important.
"I need people. It's quite isolating on farms. I love our team and obviously family is everything but having that connection with others outside is fantastic, so I love to just catch up with friends for coffee and go out for dinner and just get off farm."
She says one of the biggest pressures on a farm is having enough time to do what needs to be done, especially with kids and being in lockdown.
Extreme weather patterns and the volatility of payouts are also challenging but she says planning for best and worst-case scenarios helps them get through.
From calving to lockdown
She says being thrust into lockdown after coming out of a stressful calving season was tough.
"I feel like we've been in lockdown since the end of June because basically calving is Alert Level 4 for a dairy farmer – you don't go anywhere. It's head down and get through the next couple of months."
She and her husband were looking forward to calving finishing so they could get off the farm and have a break for a few days, but then lockdown hit.
She says keeping everyone's mental health in check is challenging but important, especially in lockdown.
"We have our good days and our very bad days… but you get to the end of the day and reflect on what went on and we do better the next day… you have to work with what you've got."
Talking and connecting
She describes their team of four employees as "amazing" and really tries to connect with them.
"You live and breathe farming… so you have to enjoy who you're working with and what you're doing… we talk about fatigue and burnout and ensuring that work-life balance because that's really important to us, so we have really open conversations with the guys."
She says farmers sometimes forget to talk about how they're doing or to ask others.
"It's about remembering to pick up the phone and just check in on each other."
She loves Farmstrong's You Matter, Let's Natter campaign because it encourages people to have conversations and open up.
Amber says being a good listener, being non-judgemental and asking open questions helps get people talking.
It's all about the people
The thing Amber says she loves most about farming is the people.
"It was really refreshing to come into [farming] full-time because the people were genuine, they really want you to succeed and there are no hidden agendas and they care, and I absolutely love that," she says.
"It's a good lifestyle and I wouldn't change anything for the world that we've gone through… we've got such a bright future ahead of us."
---