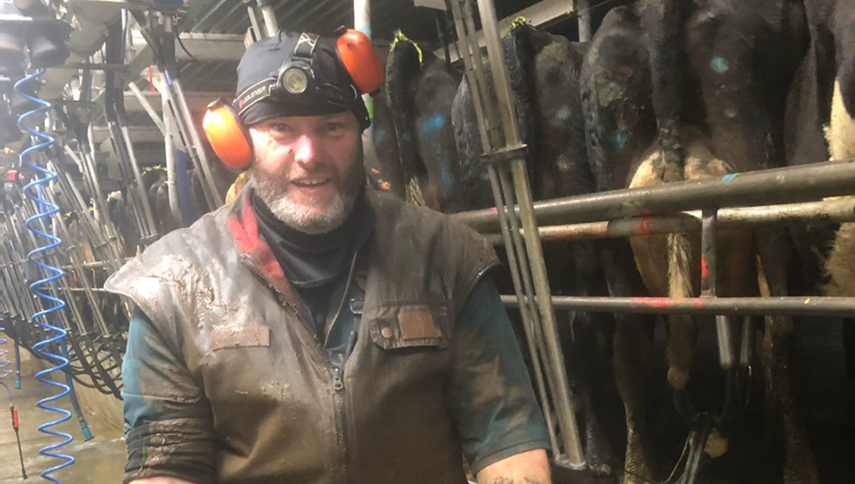 Falling Off The Perch
---
Jason Halford's thriving sharemilking career was brought to an abrupt halt by burn out. Now he's sharing his story to help others avoid a similar fate.
In the space of eight hectic years dairy farmer Jason Halford went from being crowned New Zealand's farm manager of the year to 'falling off the perch' with fatigue.
His career path in the industry was fairly typical. "I was a real hands-on farmer for 20 years. I'm a practical person, I learn by doing things, so I went dairy farming at 16. I did that for 4 years, made butter for a year at a dairy company in Pahiatua, did my OE, came back, got a degree and became a farm manager. I'm very passionate about farming and I loved working with people and animals. I've always been a worker. My parents were workers too."
That drive and passion soon paid dividends. By 2011 Jason was earning accolades at the NZ Dairy Industry Awards. "I never thought I'd win that award, but I did and that's something no one will take away from me. I look back on those times with great pride. Winning that award really grew my confidence as a farmer."
His ambitions grew too. He planned to double his sharemilking business to 600 cows within three years. Understandably, much of his focus was on results and earnings, with farm ownership the eventual goal. But he was in for a rude awakening.
The day everything changed
"Foolishly, I never stopped to listen to my body. I would just go and go, even when my body was telling me, 'come on, time to pull back a bit'. I never thought I'd ever get to the day where I was sick of milking cows, but it just happened overnight."
Jason recalls that day well. "It's a bit like a Lady Di moment for me," he laughs, "I was tending lame cows, my back was sore, I was tired of picking up cows' feet and it just kind of broke me. I rang a friend of mine absolutely in tears and said 'I can't do this anymore. This has taken too much of me.' Now I'm a guy who wears his heart on his sleeve, but I'd never been like that before. I wasn't just tearful, I was broken. I was just sick of working."
During his recovery the reasons for his sudden collapse became clearer to him. "Farming's an all-consuming job. I was the sort of person who would go and fix a broken gate at any hour, whereas someone else would've left it 'til the next day. But the perfectionist in me wouldn't allow that. Like a lot of farmers, I wanted to score an A-plus for everything I did. When I didn't, I would beat myself up mentally."
"So, everything in my life was out of whack. I had the option of reining it in too. I could've employed more staff, but I had to do everything myself. And I was absolutely terrible at having time off. That's why I burnt out. The sheer physical nature of the job broke me. If I look back now, I was a zombie."
It wasn't just Jason who suffered either. He had a partner and young children. "I remember a conversation I had with my wife. I asked her how much of the parenting I was doing. And she said, 'what do you reckon?' And I said, 'thirty, forty percent?'.  And she went, "No, five percent'. And I thought, 'oh man, that's shit'. I had kids who were 5 and 3 and I hardly saw them."
"I look back now and I just wasn't present. If anyone on farm asked me for anything, I'd do it in a flash. But the people I loved the most were the ones I felt I could be apart from the easiest. I just thought, oh they'll understand."
Work life balance
Once the penny did drop, Jason did whatever it took to get his life back in balance, but it was long haul. "It took me nearly 18 months to recover from farming like that. It wasn't like next day I was fine. You actually do deplete your body so it completely runs out of energy. I felt like I'd worked the lives of two men. I think a lot of farmers are like that and we talk about it like it's a badge of honour, but that's not something I'm proud of anymore."
His route back to health came via the most unlikely venue – the local tennis club. "Tennis saved my life. I joined the community club at the Takapau and the friends I gained from that were huge. It felt so good to get off farm, get a break and socialise with other people. It got me out of that 'groundhog day' work pattern. If I hadn't had my tennis, I would've just kept grinding away. Tennis gave me a mental break too. When you're playing, you're not thinking about the farm, you're thinking about the ball coming back."
Jason also got involved running the club and enjoyed that. "I was Hawkes Bay volunteer of the month at one point, helping out as Vice President. That community aspect of life – giving your time and something back to others – felt very rewarding and helped me get back on my feet too."
Regular exercise off farm has since become a mainstay. "Farmers are physically strong people, so doing something active in my spare time is a big thing for me. I'd say to any farmer reading this, challenge yourself to train for and complete a big walk or a 10k fun run with your family or a group of mates in the next twelve months. You'll come back feeling refreshed."
He's keen to share other painfully-acquired insights as well, beginning with the importance of downtime. "To be a high functioning person on farm you need recovery time. The All Blacks don't play 50 tests a year, but as farmers we often think we can do it, but you just can't. It's not possible. It's going to catch up with you."
"I think the longest stretch off I had off in ten years was a week! So put yourself on the roster and back your team. If they aren't up to it, train them better. Dairy NZ has fantastic resources."
Make sure to look after yourself
He offers similar advice on managing stress. "When your bucket's full, it's full, don't keep tipping in more challenges, decisions and problems so it's overflowing. Look at the jobs that you don't need to be doing. Do you need to be at every milking? Don't put the cows on once a day, put yourself on once a day."
Jason worries that the buoyant state of the industry could encourage others to over-work.
"Yes, there's never been a better time to be a dairy farmer, but you've still got to make sure that you're working to live, not the other way round. These high payouts are all well and good, but your body won't care about that. When you're tired, you still need to stop."
"I think the bigger question farmers should ask is this – why are we farming? We all want to provide our families with this great lifestyle, but if you're not going to be there for them, what's the point?"
"A cow eats grass, produces milk and goes to the cowshed, but that doesn't have to be the limit of our lives. We can live more broadly, but to expand our world and meet people outside farming, we have to schedule time off."
"What I went through was horrible. At one point, I was so disconnected that even my dog wouldn't come up to me! That was an awful place to be and that's why I'm speaking up now."
Farmstrong is an award-winning rural wellbeing programme that helps farmers and farming families live well to farm well. To find out what works for you and 'lock it in', check out our farmer-to-farmer videos, stories and tips on  www.farmstrong.co.nz.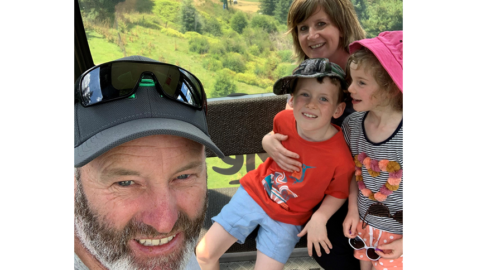 ---