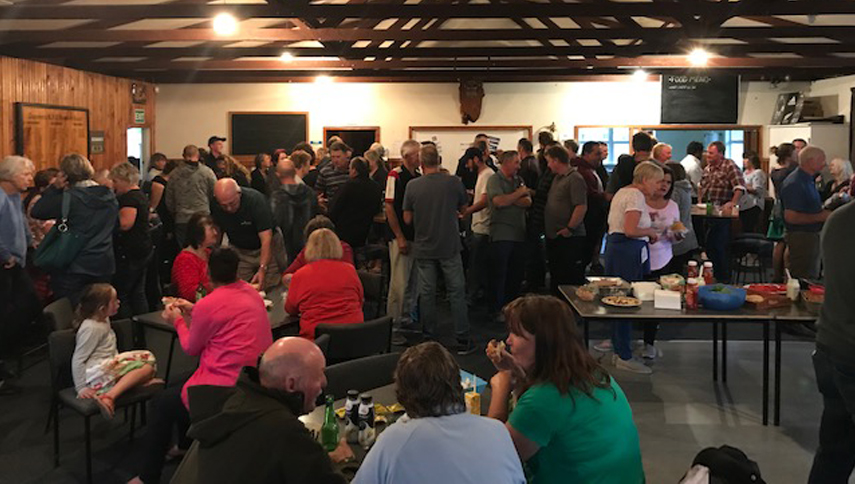 Drought Shout brings community together
---
When Tasman farmers Tarsh Newport and Lisa Anglesey organised a get together for local farmers affected by a recent drought, they had no idea what lay in store for them that evening – rain.
"We were in a drought situation and hadn't had any rain since before Christmas, so there were a lot of pretty stressed out farmers out there. We'd also had the bush fires, which were pretty scary," Tarsh says. "So my friend Lisa and I decided to organise an event to bring the community together to support each other."
The pair came up with the idea of a Drought Shout, which was held on 14 March at the Tapawera Rugby Football Club. The evening event was free for local farmers and included a barbeque, drinks and spot prizes.
Rain, sweet rain
"Funnily enough it actually rained on the night of the Drought Shout. Lots of people were joking that we should have had the Drought Shout earlier so that the rain would have come earlier," she laughs. Tarsh says that since then they've had some decent rainfall so things are looking up. "Rain always puts a smile on your face," she says. She says about 200 people turned up the Drought Shout.
"Thanks so much to all the locals who came along. It was way more than we expected, which was great. Everybody had a good time. Families came for the first part and then the adults stayed on." Tarsh says it brought the community together during a time of need. "Some people got to meet neighbours they didn't know they had or didn't know very well. It was good for everybody to talk and share what they were going through. People were just enjoying the company of other farming folk."
Thanks to local businesses
She says the Drought Shout was made possible because of the local businesses that donated food, drink, spot prizes and paid for the venue. "We were blown away by their support and they came along too and enjoyed themselves. It was just incredible. It shows what a great community we have," she says. "It's good to remind people they have neighbours who may understand their situation and to also check on your neighbours to make sure they are OK."
Tarsh, who is passionate about helping her local community, says they may hold another Drought Shout or get together. "We'll wait and see what the need is. We could do a winter thing or wait until next year if there's another drought."
---