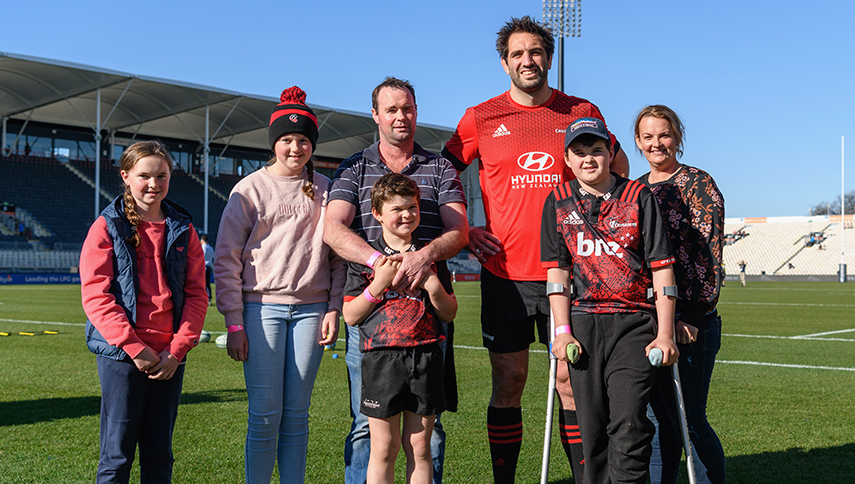 A good day out with Sam
---
Farmstrong Ambassador Sam Whitelock recently celebrated his 150th game for the Crusaders by shouting South Canterbury farming family the Grants an afternoon at the rugby.
James and Marissa Grant and their four kids (13, 12, 10, 7) won the chance to watch the Crusaders take on the Highlanders in Christchurch after being nominated by their local community.
"We were surprised to win. We didn't even know it was happening!" laughs James. "We got to the game a wee bit early, met Sam on the field and had a good talk to him. Then we went back to the lounge, had lunch and watched the game. It was great result too."
The Crusaders won 32-22 to clinch the Super Rugby title with a game to spare.
It hasn't been the easiest of years for the Grants who run a dairy farm at Rangitata Island road, 15 minutes north of Geraldine, with two dairy sheds.
Last December, the Rangitata river breached its banks after heavy rain and wreaked havoc across the South Canterbury region, causing major damage to farms, roading, rail and electricity infrastructure. Their farm was right in its path.
"The river was flooding for close to four weeks. We live on the south branch and when it burst its banks the whole river pretty much started flowing through our farm. It was weeks before it was dry again and that made life pretty hectic," remembers James.
"A lot of our tracks and fences were damaged and there was rubbish and silt to clear. Pasture was gouged out and top soil taken away. It was a bit of a mess. There was a lot to fix up."
James isn't one to dwell on the negatives though. "Yeah, it's been a bit of a stressful year but we just got on with it. We're lucky, we've got a great support network – good friends and good family. It's been harder, but we've got through it."
Nationwide rural wellbeing initiative Farmstrong helps farmers cope with the ups and downs of farming by sharing things farmers can do to look after themselves and manage stress and pressure through its website www.farmstrong.co.nz – and at workshops and community events. Last year, over 18,000 farmers, growers and farmer workers were involved in the initiative.
James agrees that getting off farm to 'catch your breath' every once in a while can help you get through tough times.
"It was great for us as a family just to have a day at the rugby. It was a good day out. I try and go hunting every so often too and we're involved in kids' sport."
His wife Marissa adds, "We enjoyed a day out with the family during our busy time on the farm. I would like to say a BIG thank you to Farmstrong and the Crusaders for hosting such a great day out. Special mention to Sam for taking the time to meet our family."
After playing his 150th game against the Chiefs, Whitelock auctioned his jersey raising more than $7,000 for Farmstrong.
"I guess there are a lot of farmers who might need Farmstrong when they're feeling 'under the pump', so it is a good thing it's there for them," says James. "Having Sam Whitelock as ambassador is certainly a great way to spread the word."
---