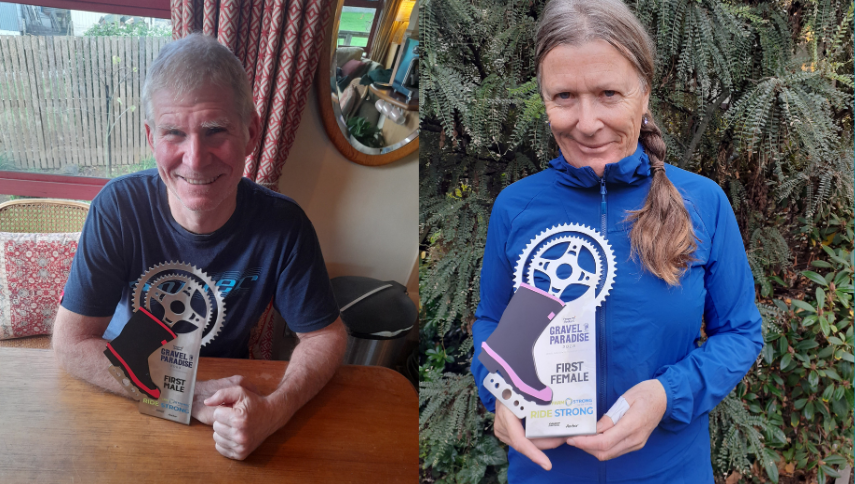 Rip-roaring gravel cycling series brings locals together
---
Module Overview
The inaugural Gravel in Paradise gravel cycling series held in rural Otago this year brought the local community together and offered cyclists a rip-roaring adventure like no other.
The three-round series, which is the first of its kind to be held in New Zealand, included the Gravel Muster in Middlemarch, the White Rocks in Oamaru and the Puketapu Gravel 'N' Tar in Palmerston.
Each race had four classes including a Ride Strong class, which was open to farmers and proudly supported by Farmstrong.
The series was organised by local cycling enthusiasts Terry Hannan and Grant Campbell, who have organised various cycling events over the years.
Terry, who is stepping down from the main role but will still be helping out next year, says farmers were sprinkled throughout the different races and classes.
"Some farmers rode in the Ride Strong class and others rode in the competitive class, which was great, and everybody thoroughly enjoyed themselves."
Key connections made
The event was an opportunity for farmers to get off the farm and have a break, get some exercise and connect with others.
"We had a couple of farmers whose properties bordered each other, but they only met for the first time at the race, which was great."
That connection and getting to know others, is one of the key components of looking after your wellbeing, Terry says.
"The atmosphere was amazing. There's always a really good feeling everybody gets out of taking part in events like this."
He says there's a real camaraderie among gravel riders, who take the time and effort to get to know one another.
"Gravel riding is popular because you don't see as many vehicles and it's a really nice riding environment with beautiful scenery that you wouldn't usually see."
Terry says Farmstrong's support of the event has been incredible.
"Partnering with Farmstrong is great as we have a shared viewpoint of the importance of encouraging people to get out and do things, exercise and meet other people.
Money raised for Parkinson's New Zealand
The event raised $1,000 for Parkinson's New Zealand, a charity that is close to Terry's heart as he himself has Parkinson's.
"There is a higher prevalence of Parkinson's among the farming community, so we wanted to show our support."
With Terry stepping down from co-organising the event, Grant is stepping up to become the main event organiser and race manager.
Grant says this year's event exceeded expectations and next year's will be a "rinse and repeat" but bigger and better.
"We had 268 cyclists take part and we're hoping more will come on board next year."
He says the feedback from participants was overwhelmingly positive.
"Everybody loved the courses, which were all a bit different and the lack of traffic, feeling of safety and stunning scenery just blew people away."
He says exercising, meeting people, socialising and having a shared experience and interest in riding created a feel-good factor for everybody involved.
"The whole event had a really good vibe, especially for farmers who could get off the farm, have a break, clear their heads and enter a different world for a few hours."
Ride Strong trophy winners chuffed
There were also two Ride Strong trophies, which were sponsored by Farmstrong, up for grabs for a female and male competitor who demonstrated admirable qualities.
These were won by Lyne McFarlane and Pete Oakden, who were both chuffed to be chosen as recipients. Lyne was picked for her enthusiasm and encouragement given to other riders and Pete, who also has Parkinson's, for showing grit and determination during the series.
Lyne says the event was well organised, and with the support of Farmstrong, the community and local farmers, people were able to enjoy the hospitality and enthusiasm of heartland New Zealand.
"It was such a huge personal challenge that completing [it] felt like I'd won a gold medal. I was on a high for days and hooked on gravel riding," Lyne says.
Pete says he's not the athlete he once was, but he can still push himself to do something different, challenging and uncomfortable.
"I entered these events and the first one was tough. I had some bad Parkinson's moments, but I got it done," Pete says.
If you're interested in taking part in next year's Gravel in Paradise event, visit the Gravel in Paradise website and Facebook page.
---