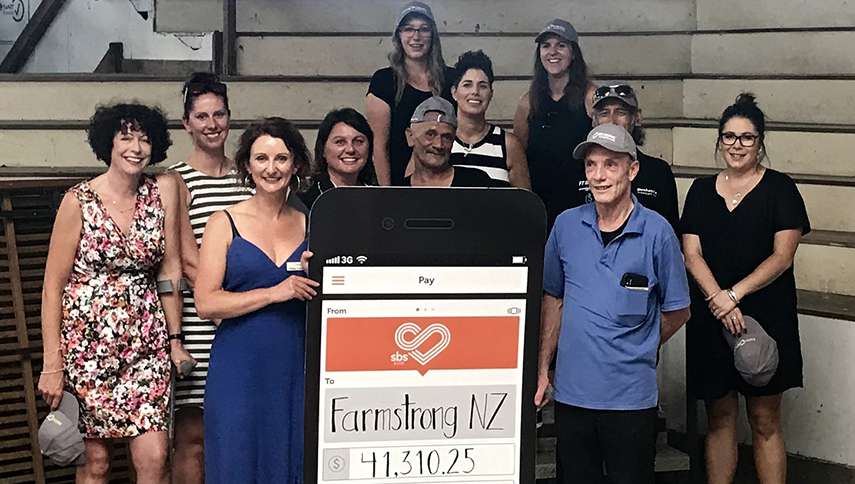 A Hawke's Bay shearing legend
---
One Tuesday evening recently, Colin Watson-Paul was busy teaching a group of women how to shear, when, much to his surprise, a TV crew walked in unannounced.
Turns out Colin was the unsuspecting recipient of an ASB Good as Gold award, a regular slot on TVNZ's Seven Sharp programme. "I didn't know what the hell was going on," he laughs. "Those women are bloody characters all right."
Colin, a veteran shearing contractor, has been a driving force behind Women in Wool, a Hawkes Bay initiative which has successfully raised awareness about mental wellbeing in rural communities.
The women are all 'townie' professionals who decided to learn a new skill and do some good for the community at the same time. Last year, the rookie shearers raised over $40,000 for nationwide, rural wellbeing initiative Farmstrong.
Now those women have been joined by others. "We go out shearing every Sunday and if they've got time during the week we catch up then as well. They'll come out to the woolshed where I'm working. The aim is to get them up to speed so they can competitively shear at the Hawkes Bay A&P show."
The benefits of the women learning to shear as the group have become obvious over time, says Colin.
"I thought it would all stop last year, but it hasn't. The women seem to really enjoy it. They've become good friends. Some of them even went to the Golden Shears in Masterton this year and shore down there, which is a big achievement. And one of them has been out with my crew for a day and shore her first '100', which was awesome."
"Once you've learnt to shear it's all right, but learning it is the hard bit. Those sheep will try and get you if you give them half a chance. What I've noticed amongst the women is their change in attitude. I can see they feel a lot more positive within themselves. And I really enjoy watching them 'get shearing'. It's a neat thing to see. They're good value."
Colin's runs up to nine crews in the region during main shear and deals with many different farmers. It gives him a good insight into the sort of challenges they face and what's needed to help. So much so that he nominated Farmstrong as his chosen charity for Good As Gold.
"There's a bit happening up here that is still really challenging for people. Some of these farmers are doing it tough. It's been dry and I think some pressure is going to come on again. Everyone needs something they can fall back in during times like a drought. That's why Farmstrong's more important than ever."
Colin's own business is not immune from the impact of drought. Local farmers have sold down stock reducing the amount of work on offer to shearing contractors.
"The sheep just aren't here in the Bay in their usual numbers. So it'll be stressful main shear. Normally I'm under pressure to get everything shorn, now I'm under pressure because these guys aren't working. I don't like it, but there's not much I can do."
Colin says his philosophy is 'keep walking forward' and not worry too much about what you can't change.
"What I've also learnt from teaching these ladies to shear is that sometimes you just need step outside your comfort zone for a bit and do something different. These women have other things happening in their lives too and I can see learning to shear helps them get through those challenges. It's been the answer for them, and I guess it's the answer for us too. Think outside the box. Try something different."
That's why Colin recently headed along to a Comedy Show Night Farmstrong organised in his community.
"People in this area are going to need to be resilient and support one another again in the coming months. I think anything that gets them off farm for a night like those Farmstrong shows is great. It's only a night off, but I think it really helps to meet others going through the same thing. It's also something to look forward to, something different to talk about next day. It gives you a perspective."
"Let's face it, it's been a hell of year for many people in the Bay. Getting through stuff together is much better than trying to go it alone. It might just be a night off, but it could do you a power of good. I guarantee if you do it, you'll be glad you went."
It would be an understatement to say Colin's not one for the limelight. In fact, he takes great comfort from the fact he doesn't own a TV and is unlikely to see his appearance.
"Yeah," he smiles, "I don't know why the hell they bothered. All I'm doing is showing a few ladies how to shear a sheep. I don't think that's particularly earth shattering, but maybe it's having a bit more of an impact than I realised."
Colin, I think you're right.
Watch the ASB Good as Gold Seven Sharp clip here
---