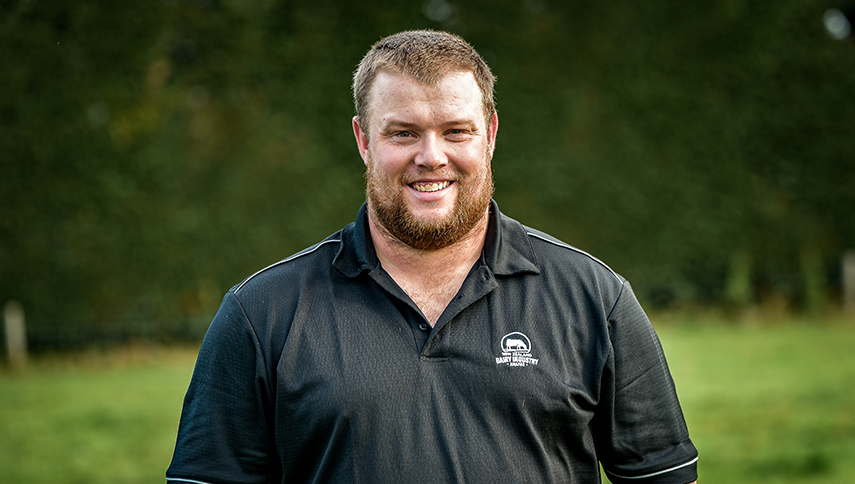 Getting through dark times and bouncing back
---
Module Overview
Six years ago a motocross accident left dairy farmer Gary Sunshine-Tervit barely able to work and badly depressed. Now he's Otago-Southland's dairy farm manager of the year. Here's how he got through 'dark times' and bounced back.
Gary grew up on dairy farms and currently manages a farm in Centre Bush in Southland milking 780 cows on 270 ha. He's into his second season there as manager. On June 1, he and his wife will become the contract milkers there. Gary says he loves dairy farming and doesn't really think of it as a job. "To me dairy farming is a lifestyle. I've really enjoyed it as I've moved up into management roles, but there are definitely pressures too – targets to meet and budgets to adhere to. So it's swings and roundabouts. But I wouldn't have it any other way," he laughs.
It's a lifestyle Gary no longer takes for granted. Six years ago he had a serious motocross accident. He'd been riding motorbikes since he was two, but one day during a trail ride with mates a suspension malfunction sent him head first over a fifty-foot cliff.
"When I got back on the bike and caught up with my mates, they asked 'where've you been?'. It turned out I'd been missing for 40 minutes!  I took my helmet off and my head was black from temple to temple."
A hospital scan revealed a mild bleed to the brain but Gary passed initial concussion tests and seemed in recovery. However, two or three weeks later he developed severe delayed concussion.
"One morning, my wife Daniella asked me if I was ready to go to town. I said yes, but then she pointed out, 'Hey, you're not wearing any pants.' Everything went absolutely downhill from that moment. Soon I was just babbling nonsense."
Neurological tests confirmed the left frontal lobe of Gary's brain was damaged. "It was the worst thing that ever happened to me – hugely straining on my marriage. I went through some really dark times. If you break a bone you can see it getting better week by week, but when it's your brain, something as simple as forgetting to shut the fridge door makes you want to beat yourself up inside. I'd kept forgetting stuff and repeating things to people. My memory was shocking. I'd think to myself, 'oh man, you are such a dumb arse.'"
Speaking up and seeking help
The turning point came when Gary decided to open up about his struggles and seek help.
"To be honest, I just knew I had to do something to control the injury, instead of letting it control me. When I first got told to see a therapist I said 'absolutely not'. I was your typical Kiwi guy. Now I see a therapist whenever I need to and I look forward to it."
"That's why I'm sharing my story with Farmstrong because I think discussing mental health is still hugely taboo in NZ society, especially among guys. It's seen as weakness. I used to think like that myself. But speaking up, seeking help and being in touch with your emotions is actually a strength, not a weakness."
Gary was off work for two months. When he returned to the shed he was a different farmer.
"I used to be like my Dad. If I had ten things to do in a day, I'd be out there 'til every last one was done. But when I went back, my injury really put the brakes on what I could physically achieve. Maybe I'd only get through five things a day. Also, if I got stressed about work, I'd get the worst migraine you've ever had times ten. Absolutely excruciating pain. So I learnt pretty quickly not to get wound up about the small stuff."
Gary realised to get through he would need a great team behind him and developed a much more inclusive management style. "In an operation our size there was no way I could cope alone. I had to create a team environment where everyone was happy and people loved their jobs because at the end of the day, if you love your job, you do a good job. These days I make sure we always have a good laugh and a bit of banter while we're working."
Unsurprisingly, he also took the lead in championing wellbeing in his workplace. "I told my staff, my phone's on 24/7, I'm only a phone call or a text away. If you've got anything going on in your life that's an issue for you – personal, professional – feel free to come and talk about it. And that's happened a couple of times now which is really great."
His injury made him acutely aware of the impact of workload and long hours. "For me fatigue was one of the biggest things to deal with after my injury. I still deal with it. So I'm very conscious of rosters and hours worked and having good meal breaks I know if I'm getting tired, the chances are my team are too. So I consciously try and keep the hours down."
Making time to connect
Gary says his management philosophy these days is 'work hard, play hard.' To prove it he's about to take up a mate's idea and sign up his farm for an inter-farm paintball competition and when the couple go contract milking next season, they plan to head off farm regularly with staff for activities such as ten pin bowling.
"We've also decided we'll have a big cooked breakfast once a month here at our place with the team and their families. We won't be talking farming, we'll talk about everything else."
Connecting with the local community and achieving a decent work-life balance are constant themes when Gary describes his life today. He's a regular at dairy discussion groups and the couple are heavily involved in local school and pre-school activities (they have two kids, 5 and 2).
"It's possible in this industry to just flog yourself and miss out on these things," reflects Gary. "My wife and I both come from backgrounds where work always came first. I had a goal to own my own farm by 40. I was hell-bent on that. I'm now 30, but my injury has made me sit back and realise what's important in life – raising kids, having a happy family. We still want farm ownership too, but if it takes us ten more years to get there, then so be it."
He's also found a replacement for his much-loved motocross. "That bike used to be my therapy. I could have the worst day on farm and after a fifteen-minute blast on the bike, it was gone. But after my injury I had to get rid of it. So now I do clay target shooting and I'm not too bad. We practice at Oreti beach most Tuesday nights and compete in club days in Southland. It's a good stress release and great way to meet other people."
Taking out a win
To gauge how far he'd recovered, Gary recently entered the Otago-Southland dairy farm manager of year awards. After the prelims, he got a call to say he'd made the finals. "They said 'congratulations you've made the top five'. I was in total shock. My wife and I are both fairly competitive, so I'll do my best to try and win."
… and that's exactly what he did. As well as taking out the 2021 Southland/Otago Dairy Manager of the Year category, Gary also scooped $8,700 in prizes plus three merit awards! We caught up with him afterwards. "I think winning and going to nationals sends a great message about the importance of speaking up about mental health and doing something about it when you're feeling down," he says.
"Looking back, I reckon what happened to me turned out to be a blessing. That one unfortunate incident has really changed the way we behave as a family. We are all very open and honest about how we are feeling now. Yes, it was one of the worst things that ever happened to our family, but it has changed us all for the better."
"I'd love our industry to get to the stage where people ask you not 'how's it going?', but 'Are you good, are you ok?' You don't need to fix people's problems to have these conversations. All you have to do for someone going through tough times is sit there and listen."
Farmstrong is an award-winning rural wellbeing programme that helps farmers and farming families live well to farm well. To find out what works for you and 'lock it in', check out our farmer-to-farmer videos, stories and tips on  www.farmstrong.co.nz.
---