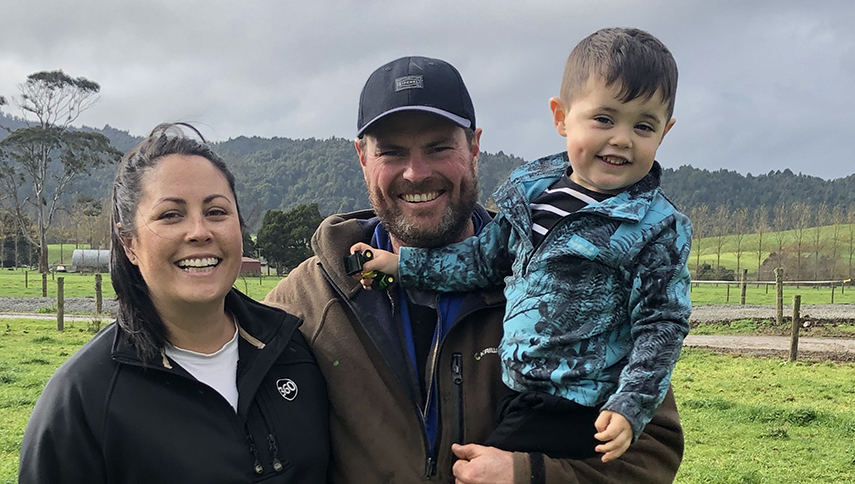 Getting the balance right
---
Amber Carpenter swapped the world of fashion for dairy farming. In 2017, she and her husband won Auckland Hauraki Share Farmer of the Year. Here's what she learnt along the way.
Amber and her husband Fraser milk 550 cows in Paparimu, south of Auckland and manage a team of three. The two met at a 21st while Amber was working for fashion house Karen Walker. It was an unlikely match up. Amber was a Buckland's Beach 'city girl', Fraser was a fourth generation dairy farmer.
Initially Amber continued her fashion role, commuting two hours into the city, but as country life grew on her, she decided to switch careers. "When Fraser moved from farm assistant to farm manager, we made a decision to go share milking," she says.
The pair are now into their sixth season and 'married with kids'. It was a steep learning curve at first, admits Amber. "I was used to being in a busy office environment that drove personal and professional growth. So being at home in an isolated environment with a newborn baby was a huge change. I missed the interaction with others and the challenge."
Amber soon discovered that study was a great tonic for the way she felt. First, she completed a Kellogg's research paper into reducing dairy farm greenhouse gas emissions through farm diversification and now she's studying towards a Diploma in Agribusiness.
"I really thrive in that classroom setting, talking about things outside my own bubble. When I got back, Fraser said, 'Oh, there's the Amber I've been missing."
Since then, the pair have made a conscious decision to make work/life balance one of their core business values. "When we first started, it was just work, work, work. To be fair, we both get a lot of energy from working and are very goal orientated. But now we work equally hard at balancing work, family and time off to do other things."
They're mindful of their team's work/life balance too. "Our weekly rosters include people's off-farm extra activities. If someone wants to play soccer one night, they just let us know and maybe that person finishes early or we milk earlier."
The pair have scheduled regular recovery time into their busy farming calendar. Amber heads off farm to play netball and connect with friends and also sets aside 'me time' for trips into the city.
"Sometimes as a farming Mum, you feel that guilt, that you're being selfish, but I've learnt that if I don't take time for myself then I'm not going to be a great mum or partner. I need to allow myself time out to do exercise or have coffee with a friend or get my hair cut. I need that space in my life, otherwise I get grumpy. As much as I'd love to be a stay-at-home mum, I'm just not that person. I need something for myself to be a better mum, wife and friend."
Amber says she and her husband are 'active relaxers'. Trouble is the nearest gym's an hour's round trip away. So the pair invested in a personal trainer who visits and runs work outs for them on-farm. They also book a decent break away each year, no matter what's happening with the payout.
"I remember in our first year, even when the payout was horrible, we did a trip to Taupo and gave ourselves the challenge of not spending much – like, where's the cheapest place we could eat and stay? It was fun," she laughs.
Amber is clear about the business benefits of investing in wellbeing. "We like working hard, but we also want to enjoy what we're trying to build. If we don't have our health, well, we're not going to be around very long. We think of it as an investment in our future."
Managing financial pressure was something Amber was already well used to as fashion industry buyer. She says the main thing is to focus on what you can control when you're feeling 'under the pump'. The recent drought has been a good test of that. "Obviously we can't change the fact there's no rain, so we thought outside the box and looked at different feed options. We explored bread and biscuit off-cuts locally and in the end we harvested some of our green feed maize earlier. It was looking at everything that we could control to get us through. Staying calm, working it out and writing it down. That's what relieves stress."
She says the dairy industry is also very supportive. "One thing I'm passionate about is working with organisations such as the New Zealand Dairy Industry Awards and Dairy Women's Network. These off-farm involvements have been wonderful. It gives me a break from our farm business and, as we are all dairy farmers and experience similar challenges, we can help each other out. They've become a big part of our support network."
Back on farm, Amber says achieving work/life balance will always be a work-in-progress. "It's about finding what works best for you. The main thing is: be kind to yourself. Whether it's during a drought, a low payout or calving in a cold winter, when there never seems to be an end in sight, work out what you need to get through. It might be exercise, a hobby or a roster that works better for you. No one gets it right all the time, but if the intention's there, it's much more likely you're going to have a good day. But you need to put yourself first. That self-awareness is something I've developed over a very long period of time. That it's ok to make your wellbeing a priority."
Farmstrong is a rural wellbeing programme that helps farmers and farming families live well to farm well. To find out what works for you and "lock it in", check out our farmer-to-farmer videos, stories and tips on www.farmstrong.co.nz
---