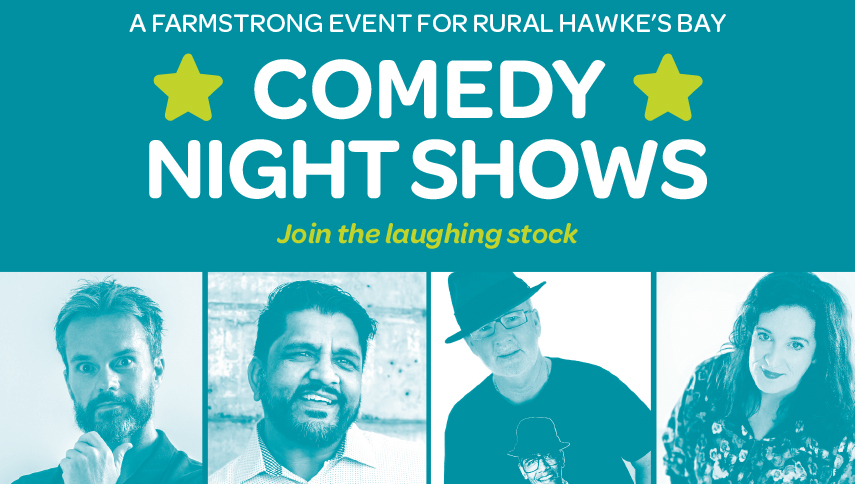 Farmstrong brings comedy shows to Hawke's Bay
---
Well-known Kiwi comedian Nick Rado is expecting to get heckled by some farmers this week and he wouldn't have it any other way. The award-winning comedian from 7 Days headlines an all-star line-up – including John Carr, Tarun Mohanbhai and Justine Smith – who are travelling to rural Hawke's Bay for some Farmstrong Comedy Night Shows.
Farmstrong is a nationwide wellbeing programme that helps the rural community cope with the ups and downs of farming.
Project lead Gerard Vaughan says: "After a challenging year, this is a great opportunity for rural communities to get off the farm and enjoy a good night out with friends, work mates and family."
We caught up with Rado to talk about the comedy series which will be hosted by rural venues, Matapiro Hall (1 October), Maraekakaho Hall (2 October) and Waipawa Municipal Theatre (3 October).
What's it like being an Aucklander trying to be funny for a rural audience?
It's a great combination of out-of-towners coming in and trying to be funny and the farmers' mentality of 'who do they think they are?'. Once they start heckling and realise most of us have been doing this for 15 years and we can take the banter, they really get into it [laughs]. That's all part of the fun and games and we love the banter and we know farmers are always up for a laugh
With lockdown it's been hard to be social over the past six months and life has been hard for farmers with the drought as well. It's a great time to come in and let off a bit of steam, have a few cold beverages and laugh at the ridiculous situation we find ourselves in.
If there's any group of workers or people in New Zealand who can come out the other side not only unscathed but learning from the hard times, it's farmers. By nature, they're resilient people.
What's the best part about coming down to this part of New Zealand?
The best thing is sharing stories with like-minded people who are going through the same things as you. You realise that farming, like comedy, can be pretty lonely at times and they get a chance to realise that they are not as alone. Many others are going through the hard times as well as the good times. When you have a good laugh and distraction, but also that connection with people, it's nothing but a good night. We'll be bringing our A game and we expect our hecklers to bring out their A game as well. As Aucklanders we promise to not bring any COVID-19 down with us [laughs].
Farming is a tough role but many people would consider stand up comedy a tough gig as well?
I guess if you look at any profession and you don't know how to do it then sure it looks like a tough job. Like for me farming would be a really hard job [laughs]. I've been doing stand up comedy for around 15 years now and I love it. This tour is not going to main towns or centres, we're going into the middle of rural communities. People appreciate us coming to their local so to speak, and we love it too. It creates a totally different atmosphere than what we would get in a snooty Auckland club [laughs]. It's down and dirty with salt of the earth type people and that is always a really special experience.
How do you reckon you'd cope if you were a farmer for a year?
I don't think I could do it. I'll be honest, I'm no good at working on the farm. We used to go to a friends' farm when I was growing up, but I think we were more detrimental than actually helping [laughs]. Comedy is my outlet. I don't think I'd cope without having that outlet. We had that for four or five months this year and it drove my wife crazy. I was cracking jokes and being a smart-ass every day at home and she sat me down and said you need to talk to someone else – she doesn't find me funny anymore [laughs].
What can people expect from the show?
My job is the MC [Master of Ceremonies] so I'll get out there to make sure everyone is having a good time before the comedians come on. We have three brilliant acts coming down and they'll do around 20 minutes each. They know they have to bring their A game basically. They will be coming down to make people laugh and make sure everyone has a great night.
Farmstrong Comedy Night Shows
Thursday 1 October – Matapiro Hall, Doors open: 5.30pm for a 6.30pm start Tickets: $20
Friday 2 October– Maraekakaho Hall, Maraekakaho, Doors open: 6.00pm for a 7.00pm start Tickets: $30 (includes dinner)
Saturday 3 October – Waipawa Municipal Theatre, Doors open: 6.00pm for a 7.00pm start. Tickets: $20
For more information go to: www.farmstrong.co.nz/events/
---