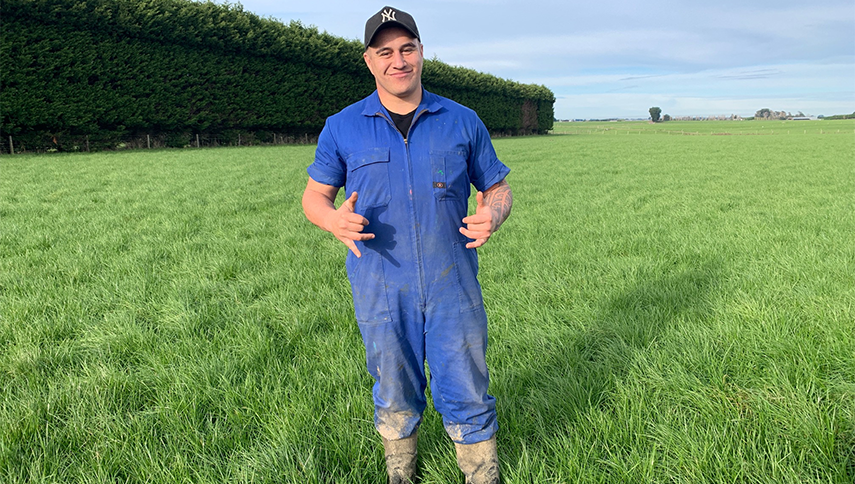 Farm for life
---
Tangaroa Walker was the inaugural winner of the Ahuwhenua Young Māori Farmer Award in 2012 and has gone on to a successful career as a contract milker. Now he's helping Farmstrong raise awareness about the importance of living well to farm well.
---
Tangaroa still remembers the moment he decided to go farming.
"I was 11 years old and this guy drove up the driveway of our school in this flash car with his 'beautiful wife' and hopped out. He was there to help set up a cross country course. I said, 'Hey man, what do you do?'. He said, I'm a farmer.' That was it. I ended up helping him out on his dairy farm when I was 13 and just cracked into it from there."
Nowadays, Tangaroa manages a dairy operation on a 180 hectare, 500-cow dairy farm in Mabel Bush, on the outskirts of Invercargill. As much as he loves the job, he admits being a contract milker has its challenges. There are targets to meet, staff to manage – he's on call 24/7.
Make sure you achieve a decent work-life balance
"When you go contract milking, you leave the farm you're currently on and take over running another one on the first of June. And there's nobody there to tell you which way the power runs or where the water taps are or anything. So you could have a leak in a trough down the back of the farm and it's really stressful because the cows are thirsty and you don't know where anything is. You've got to literally start again from scratch."
Tangaroa says sometimes the pressure of running it all gets to him. So he's put in place strategies to relieve stress and achieve a decent work-life balance no matter what the farm or the weather sends his way. He owns and runs a fitness gym in town with his partner, plays competitive rugby during winter, goes free diving at every opportunity and makes videos for his own Facebook page, Farm 4 Life, which aims to 'to educate the public about life on dairy farms and how awesome it is.' The page has 12,000 followers!
Hang out with mates and help others
He says the best cure for stress is hanging out with mates and helping others.
"I really enjoy free diving and being able to drop off some crays or kinas to families and friends I know. I come back to the farm thinking, 'Hey, I helped someone today'. It feels rewarding and you start work again feeling great."
"Because I'm on call 24 hours here, we always plan a proper 3-week break every year but while I'm here, I make sure I have a good lifestyle too. I like to start my day really early in the morning and get all my work done by ten o'clock. That frees me up to go to my gym or message one of the boys to see if they want to go out diving."
Recognise the warning signs of burnout
Tangaroa's also learnt to recognise the warning signs of burn out.
"Once or twice a year, when things are really hard on farm, I'll realise I'm struggling and go to my wife and cry. It just happens naturally. I try not to have it happen, but sometimes things just get on top of you."
He's got a plan for that too.
"If I'm feeling down, I'll ring my mates straight away and have a yarn. That'll always lead to us going diving that week or playing rugby. Then all of a sudden the little dramas I had on farm, that were really getting to me, feel like bugger all and I'm good to go again."
Trust your staff and delegate
Tangaroa says he's also got better at trusting staff and delegating.
"One of the main challenges in farming is getting all the staff on board with what you're trying to do. I've only been in dairy farming for 11 or 12 years, but I already find myself getting caught in my own ways. So I've learnt to step back more and let people have a crack. If their way fails, I'll explain why my way would've worked better or if their way works, I'll adopt it and give them the credit they deserve."
Spend time together as a team
"I also make sure our team spends time together that isn't based around work so we can have a laugh and create a good work environment. I've learnt to work with my staff at their level and not just sit on the carriage above and give orders. I don't rate the person that I was ten years ago as an employer, but I definitely rate the person I am now."
Look after yourself
He says staying on top of the game physically and mentally is essential for keeping people safe too.
"We're operating five tonne machinery and working around livestock. There are hazards everywhere. You've got to be on the ball every minute of every day on a dairy farm and make sure that you're rested, fit, your nutrition's up there and you're not stressed out and losing focus."
Sleep is something he's had to work at.
"I used to really struggle to sleep if it was pouring down outside. I'd be worried about my cows getting hammered by the weather. Being organised is the answer. If we're going to get a southerly now, I put the cows in the best paddock to protect them and then I can go home and sleep because I've literally done the best I can do for them and it's out of my control from then on."
Tangaroa says looking after himself has definitely paid dividends for the business.
"I see the farm, the investors and the people who work on it as a bit like a trailer. I'm providing the pulling power to move it forward. So, I've got to make sure my headspace is good, I'm fit and healthy and that I turn up for work every day with yesterday's stresses gone. If I don't, it's going to slow down the vehicle."
Farmstrong—the best thing since sliced bacon
"It's funny isn't it? We go to school and do farming courses and learn about all these things, but nowhere do you learn about how to look after yourself by eating properly or making sure you call a friend when you're stressed. No one teaches you that. That's why I think Farmstrong's the best thing since sliced bacon."
"I know I'm in an awesome industry and I'm passionate about it, but in order to do it for the rest of my life, I need to make sure every single day I do something that's exciting, that's fun, that I'm gonna get a laugh out of, otherwise why do it?"
Farmstrong resources for tips on managing stress and sleep:
Farmstrong Under the pump resource 
---