Raucous peals of laughter could b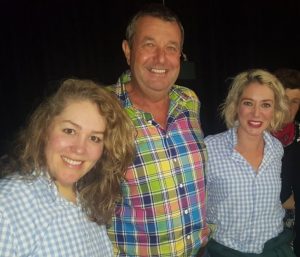 e heard erupting from the Ward Community Hall recently thanks to a comedy show held to provide light relief for the locals.
Rural Support Trust facilitator and former farmer Graham Pomeroy laughed so much during the performance of the Sons of a Bitch & Mel Parsons Woolshed Tour, he had tears rolling down his cheeks.
"It was just hilarious. We had a fantastic night and it ended up quite a party… an event like this is stunning for the health of the community. It was great for people to have a real laugh and leave their problems behind," Graham says.
The small Marlborough town was treated to a free performance, which was hosted by Farmstrong on 8 April. About 140 people packed into the hall to watch the show, which toured the country last year to rave reviews. A free BBQ and drinks were also provided, much to the delight of the Ward locals.
The double bill featured a set of country/folk songs sung by award-winning songwriter and musician Mel Parsons, followed by a comedy show called Sons of a Bitch, featuring Amelia Dunbar and Emma Newborn, who play country dogs.
The comedy show was something the town really needed following the 7.8 magnitude Kaikoura earthquake last November, which left large areas of Ward badly damaged.
Graham is a Rural Support Trust facilitator and for the last few months he and his wife Jenny have been visiting farmers around the top of the South Island who have been affected by the earthquake to offer help if needed. He was instrumental in getting the show to Ward.
Benefits to the community
Graham, who recently sold his Collingwood farm and moved to Nelson, says the locals and the community benefitted hugely from the night out.
"Everybody had tears streaming down their faces they were laughing so much… during the break everybody headed outside and were talking and laughing and having such a good time we weren't sure we could get them back in. People were talking to people they hadn't seen for ages. The noise of everybody talking was deafening.
"But that's exactly what we wanted, people getting out, getting off the farm, socialising and relaxing and having a laugh with their mates."
He says when people talk about their problems, they realise others are going through the same thing.
"That's when solutions are offered. Somebody might offer to lend some equipment or some sort of other help."
Getting on with things
Large areas of Ward, Seddon, the Awatere Valley and Kekerengu are still damaged, Graham says, but the farming community is showing incredible resilience and getting on with things that need to be done.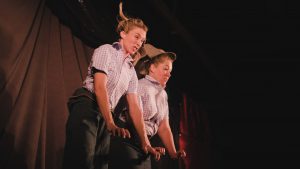 "There are still so many smashed homes… some people are living in their woolsheds while they wait for their homes to be fixed. There's no other real accommodation around. It's all farming homes. There's still a lot of issues with broken fencing and tracks but the farming community is rallying together and helping each other out."
Graham says it's not just the earthquake that has proved challenging in recent times.
"There's droughts and floods and high winds. All these things can start to take their toll on farmers… but this comedy show was a positive for everybody."